Turn DMACC Credits into a Degree
After high school, transition right into DMACC and complete your degree. It's an easy next step!
Take advantage of the DMACC credits you've earned in high school by completing a DMACC Associate degree.
Advantages of earning an Associate degree:
The degree is accepted

in its entirety

at

four year institutions. Transferring credits by course allows institutions to choose to accept or deny on a class by class basis.
Having an Associate's degree

makes you marketable

in the workforce, even if you choose not to complete your four-year degree.
Two easy ways to track your progress towards an AA degree
If you currently take high school classes that earn DMACC credits, you can easily see how close you are to completing an Associate degree with these two tools.
Degree Tracker


The Degree Tracker shows the DMACC credit classes available at your high school and online classes. Use this worksheet to keep track of your progress towards a degree.
»

Find the printable Degree Tracker for your School
Degree Works
Use Degree Works to keep track of DMACC credits you've completed, and also run scenarios of how many credits you have left to complete an Associate degree or any other degree, diploma or certificate that DMACC offers.
»

Learn more about DegreeWorks
»

Access DegreeWorks
(Login to myDMACC required.)
Thinking about enrolling at DMACC after high school?
If you previously filled out the DMACC Career Advantage Application in high school, there is no need to reapply to DMACC.
Take 2 minutes and fill out the simple Program Declaration Form!​
Program Declaration Form
​Continue What You Started
Download this PDF Brochure (course planner worksheet included) to learn more about why completing your degree at DMACC is a good idea.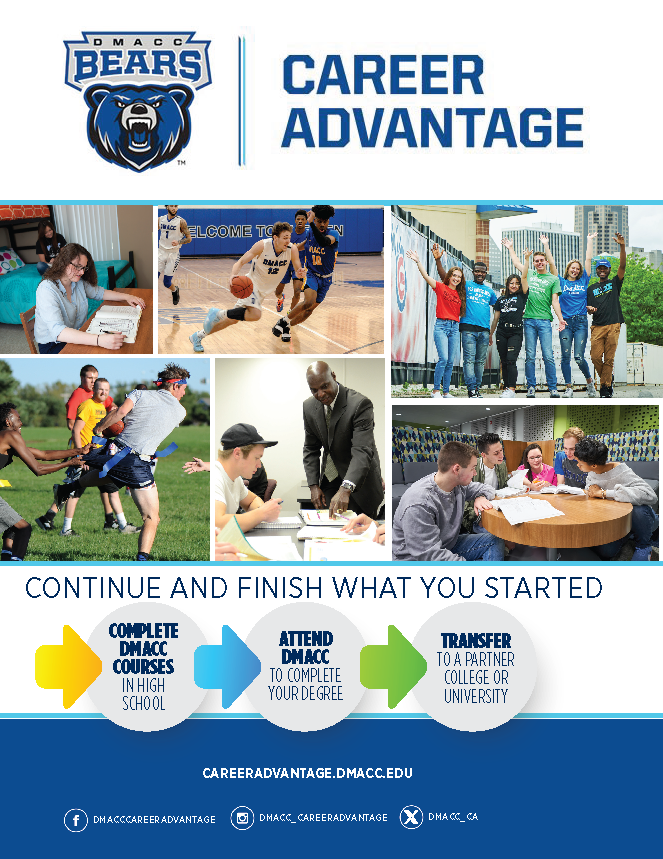 Even if you decide to transfer credits before earning a degree at DMACC, your classes at your four-year institution can transfer back to DMACC to complete your AA degree.
User our Tuition Calculator to see how much you can save by earning an AA degree at DMACC before transferring to a four-year institution.
For more information, please contact us.
Why Choose DMACC after High School?
Affordable
DMACC offers the lowest tuition costs of any Iowa college. You'll get the first two years of your four-year degree while saving thousands on tuition. Save on four-year college credits and graduate with less debt.
Proven Effective
Studies show community college graduates are better prepared both academically and socially for a university experience than freshmen coming straight from high school.
Other Advantages
Smaller class sizes (average class size is 18)

Individualized attention

Flexible schedule

(12 campuses & centers, online, and summer classes)

Free tutoring