HiSET - High School Equivalency Test
All DMACC Campuses
High School Equivalency Test
High School Equivalency Enrollment Process
Sign up through student portal

Select which new student Zoom session to attend

Log in for two required orientations to learn about HiSET content

Travel to DMACC site to take CASAS placement tests

Meet with career coach to register and enroll

Attend class and progress towards graduation!
Please call 515-697-7815 with any questions.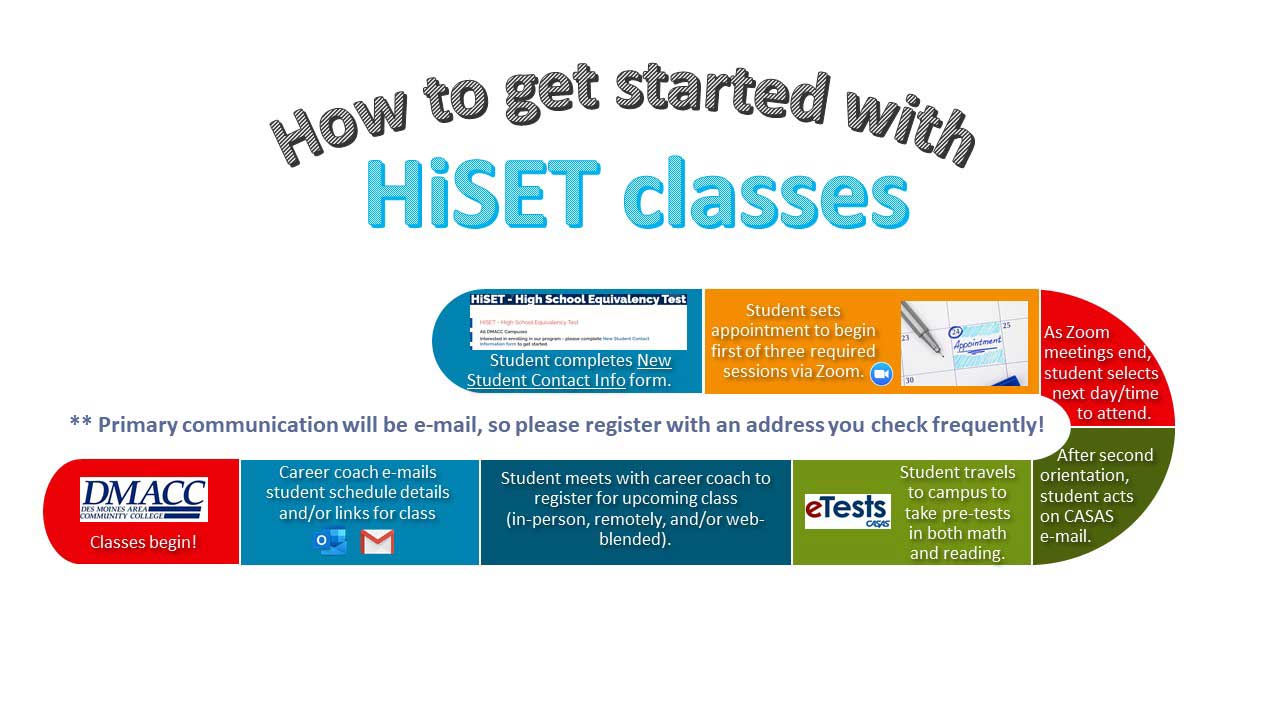 The HiSET Test and Instruction at DMACC (formerly GED)
The HiSET (High School Equivalency Test) is an assessment of skills and knowledge comparable to those of a high school graduate. It is not to be considered a substitute for completing high school and earning a diploma. It is an alternative for those who, for a variety of reasons, are unable to finish high school. HiSET has replaced GED in the state of Iowa as the assessment tool used to award the High School Equivalency Diploma.
The HiSET test is a series of five tests covering writing, science, math, literature and the arts, and social studies. These tests require the test taker to apply reading, math, language, and critical thinking skills. Tests are taken one at a time, and can be taken in any order, as long as writing and math are not last. Passing the HiSET test series allows student to earn their High School Equivalency Diploma (HSED).
To meet the educational needs of all students, each site will offer classroom instruction covering all five areas of the HiSET. Students are required to attend a New Student Orientation as well as the HiSET class they are registered for. Classes are held several times per week over a 6-week cycle. ATTENDANCE IS MANDATORY!
The Orientation and HiSET classes help you in at least five important ways:
Evaluation: The pretest administered during the Orientation can help you discover which subjects you need to study.
Instruction: Your HiSET class instructor will organize your studies and guide you in your preparation for the specific HiSET tests.
Practice: Your instructor can give you practice tests similar to the HiSET. These will help you understand more about the nature of the HiSET tests.
Readiness for the HiSET testing: Your HiSET instructor can help you determine readiness to take and pass the official HiSET tests.
Preparation for Career Training: The basic skill instruction delivered in the HiSET classes will assist you in developing skills needed to continue career training after you've earned your HiSET.
For more information, please select from the following links: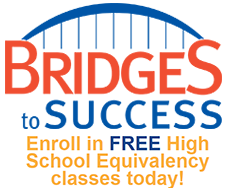 Bridges to Success can help you earn your high school equivalency diploma (HSED) and pass the HiSET test, opening up a world of job and career opportunities.
FREE classes, coaching, testing, and books
Convenient times and locations
Your own career coach to help you succeed and plan your future
Work-ready practical lessons that are useful after the program.
You're not alone. 34,000 central Iowans don't have a high school diploma. We can help you earn it!
Learn More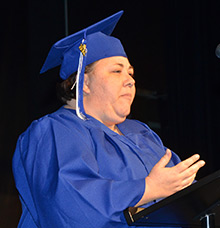 At 15, I dropped out of high school. I told myself I'd take the GED tests later. But later didn't come. I had a family, found my niche and had a good job. While I was lecturing my children about the importance of education, I realized I was being a hypocrite. And then I was passed over for a much better position at work because I didn't have my high school education. It was time . . . no more excuses. Now that I've earned my HiSET, the journey has shown me it's never too late to create a goal and achieve it.
Joni Lutman - HiSET Graduate, Fall 2017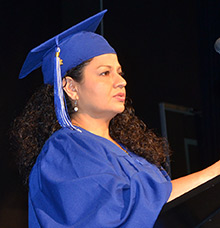 I came to the U.S. from El Salvador at age 16. At the time, I just wanted to work to send money home to my family. Two years ago, I decided to make a change and signed up for the HiSET program. After a bumpy start, I went on to receive my high school diploma and am currently taking accounting classes at DMACC to become an entrepreneur.
Irma Cortez - HiSET Graduate, Fall 2017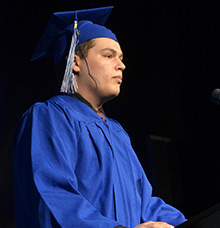 I planned to join the Navy when I was old enough. Unfortunately, a bee sting and severe allergy ended that. Then, a month before I was to graduate from high school, my father died and I was forced to move. When I tried to enroll in high school I was told I'd have to repeat my entire senior year. That's when I heard about HiSet. It wasn't easy starting out . . . but it paid off in the end. Now, I'm enrolled at DMACC and hope to go on to law school to become a lawyer.
Harley Ekstein - HiSET Graduate, Fall 2017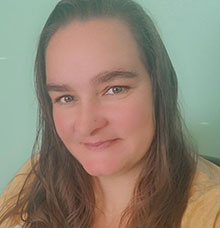 Even if you've tried in the past and failed, you can do it! With the flexible options DMACC now offers, anyone can make this happen! I'm so glad I can be such a strong role model for my own kids after accomplishing this.
Crystal Beyers - HiSET Graduate, Fall 2021