Message from President Denson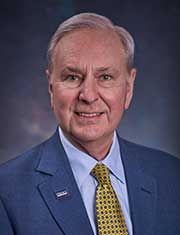 On behalf of the Board of Trustees and all of us at Des Moines Area Community College, thank you for your service to our country. We're proud to join the rest of the community in supporting our troops and to provide you with the means to turn veterans benefits into educational opportunities.
If you're not familiar with DMACC, I'd like to introduce you to one of the finest educational institutions—and greatest educational values—in America. No matter which of our more than 130 programs and certifications interests you, you'll learn from highly skilled teachers who care about the success of each student. We'll make sure you are well prepared and ready to enter the job market. Or, if you plan to pursue advanced studies that lead to a degree in medicine, law, engineering, business or education, DMACC will help you launch your career with our expanding Preprofessional Program.
One of the bests parts: DMACC can make your state and federal veterans benefits go even farther by offering outstanding education for thousands of dollars less than you will find anywhere around. It's good to know that a higher education is still affordable.
The best way to see if DMACC is right for you is to visit. Give our dedicated Veterans Services Coordinator a call and plan a consultation and campus tour today.

Message from Veterans Services Coordinator
Understanding your Veterans Education Benefits can be a challenge. As a student veteran, you may be eligible for several GI Bill® benefits, federal tuition assistance (FTA) and perhaps even state-funded tuition assistance (NGEAP). There are different policies, procedures, guidelines and rules for every program. Applications, certifications, verifications. . . it can get confusing quickly.
My job as the Veterans Services Coordinator is to help you maximize your benefits by understanding how they work together so you can achieve your educational goals.
As a retired officer of the Iowa Army National Guard with more than 20 years of military service and multiple deployments, I can fully appreciate your commitment to our country. I want to personally thank you for your service. Until my retirement in 2010, I served as the Education Officer for the Iowa National Guard. This position provided the opportunity to learn and understand all of the GI Bill®​ benefits as well as the federal and state-funded tuition assistance programs. I continue to work with the National Guard, Iowa Department of Education, VA and other school certifying officials to ensure you can receive the benefits you've earned.
DMACC is committed to serving student veterans and eligible family members. It is one of the many reasons I chose DMACC to obtain my Associate's Degree years ago, and it is one of the many reasons I choose to work here now.
When you are ready to enroll in courses or if you have further questions, please feel free to contact me by phone, email or in my office on the Ankeny Campus, Building 1. My contact information can be found below.