The Turn of the Screw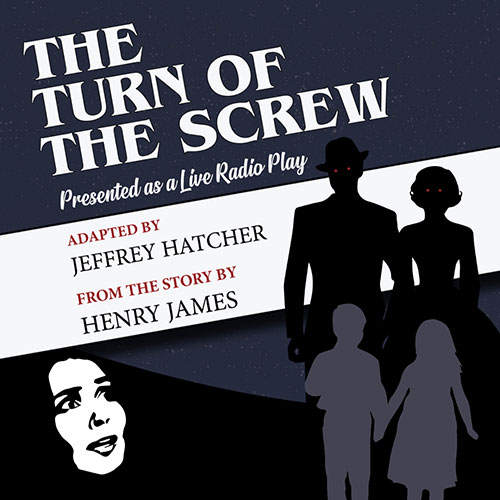 ​adapted by Jeffrey Hatcher
from the story by Henry James
Produced by DMACC Ankeny Theatre, The Department of Liberal Arts, & Student Activities Council
FREE performances in the Black Box Theatre in Building 5 on the Ankeny Campus on:
October 8, 9, 15, & 16 at 7:30 pm
October 10 & 17 at 2 pm
Cast
GOVERNESS: Macey Brackin
MILES: Andrew Winkowitsch
MRS. GROSE: Emily Junker
UNCLE / FOLEY: Austin Klimpel
NARRATOR / FOLEY: Dave Binder
PIANO: Oz Lee Spiker
Crew
DIRECTOR: Carmen McDermott
STAGE MANAGER: Emily Varineau
SOUND / FOLEY DESIGN: Krister Strandskov
LIGHTING DESIGN: Rachel Trimble
PRODUCTION MANAGEMENT: Rachel Trimble
TECHNICAL DIRECTION: Krister Strandskov
PRODUCER: Carl Lindberg
HOUSE MANAGER: Audrey Krukow
Production Graphic Designs by Amina Ali. DMACC Ankeny Theatre logo Graphic Designs by DMACC alumnus Lucas Thul.
DMACC Ankeny Theatre is not proactively offering content ratings of shows as sensitivities vary amongst individuals and between families. For more information about any of our productions, please write to theatre@dmacc.edu.
For more information about theatre at DMACC or to engage in supporting the program, please email Program Chair, Carl Lindberg at celindberg@dmacc.edu.
About The Turn of the Screw
A tale of suspense and horror, this adaptation gives the famous story yet another turn of its own. A young governess journeys to a lonely house to care for two children. But she is not their first governess. Her predecessor, Miss Jessel, drowned herself when she became pregnant by the valet, Peter Quint, who was himself found dead soon after, under mysterious circumstances. Now the new governess has begun to see the ghosts of Quint and Jessel haunting the children, and she must find a way to stop them before it is too late. But are the ghosts real, or a product of her own imagination? A perfect October offering!
About Live Radio Plays
A radio play is a production with full acting, manually created sound effects (also called Foley), and music, but not much else. Our production has no costumes or set and minimal lighting. The actors won't perform any traditi​onal blocking and they have no props. The benefit is all of the emphasis is on the story. And watching actors create sound effects from coconut shells, a bucket of water, and other found items is like a small feat of wizardry!
Special Thanks
Shout out to Jeffrey Hatcher for the creative support! Thank you to Adrienne Sweeney at the Commonweal for connecting us with Jeff. Thanks to Sarah Ket Bode and the DRA 162 - Technical Theatre class. Props to our fantastic security and custodial crews in Building 5.
The Turn of the Screw is presented by special arrangement with Dramatists Play Service, Inc., New York.
Originally workshopped and developed at Portland Stage Company's 6th Annual Little Festival of the Unexpected. Originally produced by Portland Stage Company in January 1996, Greg Leaming, Artistic Director, Tom Werder, Managing Director. Originally produced in New York City by Primary Stages Company, Casey Childs, Artistic Director in March 1999.
Cast Bios
Dave Binder (NARRATOR, FOLEY ARTIST, he/him), now retired from academia, Dave is making his DMACC acting debut. He is excited to be embarking on yet another adventure in life. He would like to thank the many folks who helped and encouraged him over the years on his decidedly non-linear journey.
Macey Brackin (GOVERNESS, she/her) is thrilled to be back in her 5th (and final) show with DMACC Ankeny Theatre. She's been in other DMACC shows such as Fuddy Meers (Claire), Love's Labor's Lost (Rosaline), The Matchmaker (Dolly Levi), and Romeo & Internet (Lady Capulet). She's also been nominated for the Irene Ryan Award for her work in Fuddy Meers. After DMACC, she intends to study Theatre and Communications at Iowa State but at this point, all she knows is that she intends to perform and act for the rest of her life. She'd like to thank everyone with DMACC Ankeny Theatre (especially Carl, Krister, and Rachel) for always giving her a chance and for giving her the best 2 1/2 years of her life. She'd also like to thank Pierce for all his support. Love you, stinker.
Emily Junker (MRS. GROSE, she/her) is spirited to perform her first DMACC play. Emily has participated in the Arts from a young age. Emily later partook in a radio production, where she told her tale of "Sunglasses: Change your shade" in Sitka, AK. Emily extends thanks to her family & friends, present or in spirit.
Austin Klimpel (UNCLE, he/him) is very excited to be in another radio play. This is his fourth production with DMACC following Guys and Dolls, Willy Beau Dilly, and Romeo & Internet. Austin has been in many other plays, his favorite roles being King Triton in The Little Mermaid, Dreyfus in The Pink Panther Strikes Again, and Gloin in The Hobbit Musical. Austin has also participated in both large group and individual speech during high school, achieving the All-State level in several categories. He would like to thank his family, friends, and teachers for pushing him into acting and giving him a chance to flourish in the theatre community.
Oz Lee Spiker (PIANO, he/they) is very excited to be joining DMACC Ankeny Theater for this performance. This is their first performance with DMACC and they are looking forward to accompanying Ankeny Theater! They are 18 years old and this is their freshman year of college. Oz takes piano lessons at DMACC as well!
Andrew Winkowitsch (MILES, he/him) is very happy to be performing in this DMACC production. This is his first time doing a DMACC play, also he has had many other acting experiences at Okoboji High School including the musical Imaginary and The Sound of Music. He would like to have awards and stuff eventually.
Crew Bios
Emily Varineau (STAGE MANAGER, she/her) is enthusiastic about working on this play. Emily is active in DMACC Theatre and loves working on stage and off stage. She is a DMACC student studying Acting. Emily has acted in DMACC Ankeny Theatre's Summer Short Shakespeare: Romeo and Juliet, as Petra. She sends thanks to her family and friends for their support.
Carmen McDermott (DIRECTOR, she/her) is excited to be a part of her first DMACC production. As a lifelong lover of the stage, Carmen has been involved in theatre in many facets, from on stage to behind the scenes, she just can't get enough. Camen graduated in 2018 from Grand View University where she majored in Psychology and Theatre. When asked to return to the Des Moines area for a chance to do theater again Carmen jumped at the chance. Carmen currently resides in Dyersville, Iowa, with her fiancé and assorted pets.
Rachel Trimble (PRODUCTION MANAGEMENT, LIGHTING DESIGN, she/her) graduated from Grand View University where she was involved in every production during her time as a student. She has many credits from Grand View and DMACC Ankeny Theatre in Design, Scenic Painting, Stage Management, Properties Design, Costume Design, and Performance. Some of her more memorable credits include Ghost Bike (Persephone/Ensemble, DAT & Grand View), and 'night Mother (Scenic Design) for which she received a National Honorable Mention at the Kennedy Center American College Theatre Festival. Rachel works here at DMACC Ankeny Theatre as the Resident Designer with many credits and has worked with various theatre companies in Des Moines. Rachel is excited to be working on The Turn of the Screw with this wonderful cast and crew.
Krister Strandskov (TECHNICAL DIRECTION, SOUND & FOLEY DESIGN, he/him) moved to Des Moines in 2013, and since then Krister has worked with Grand View University, Whippoorwill Theatre, Stage West, Goldfinch Theater Company, Iowa Stage Theater Company, and DMACC Ankeny Theatre in a variety of roles both on and off stage, from Technical Direction to Foley Artist and everything in between. Krister feels honored to have been part of the last several productions at DMACC and is looking forward to the remainder of the 2021-2022 season.
Carl Lindberg (PRODUCER, PROGRAM CHAIR, he/him) has been producing theatre at DMACC since Spring of 2017. Prior to his arrival in the Des Moines metro area, Carl worked as an actor on major Chicago stages (Lookingglass, Remy Bumppo, Buffalo Theatre Ensemble, Oak Park Festival Theatre, About Face, Windy City Players, and many more), on camera in a handful of commercials and short films, and directed and designed productions in Chicago, Minnesota, Wisconsin, Pennsylvania, and California. Locally, Carl is represented by the Peak Agency, and he is incredibly proud to serve as an Adjudicator for IHSMTA, an All State Critic for IHSSA, to represent Pyramid Theatre Company as a board member, and to have performed at Tallgrass. Carl has an MFA in Directing from Western Illinois University, a BA in Acting from CSU Stanislaus, and has trained with ensemble members from Steppenwolf, The Second City, and Shakespeare & Co. Love to J, M, & D.​