Tiny Houses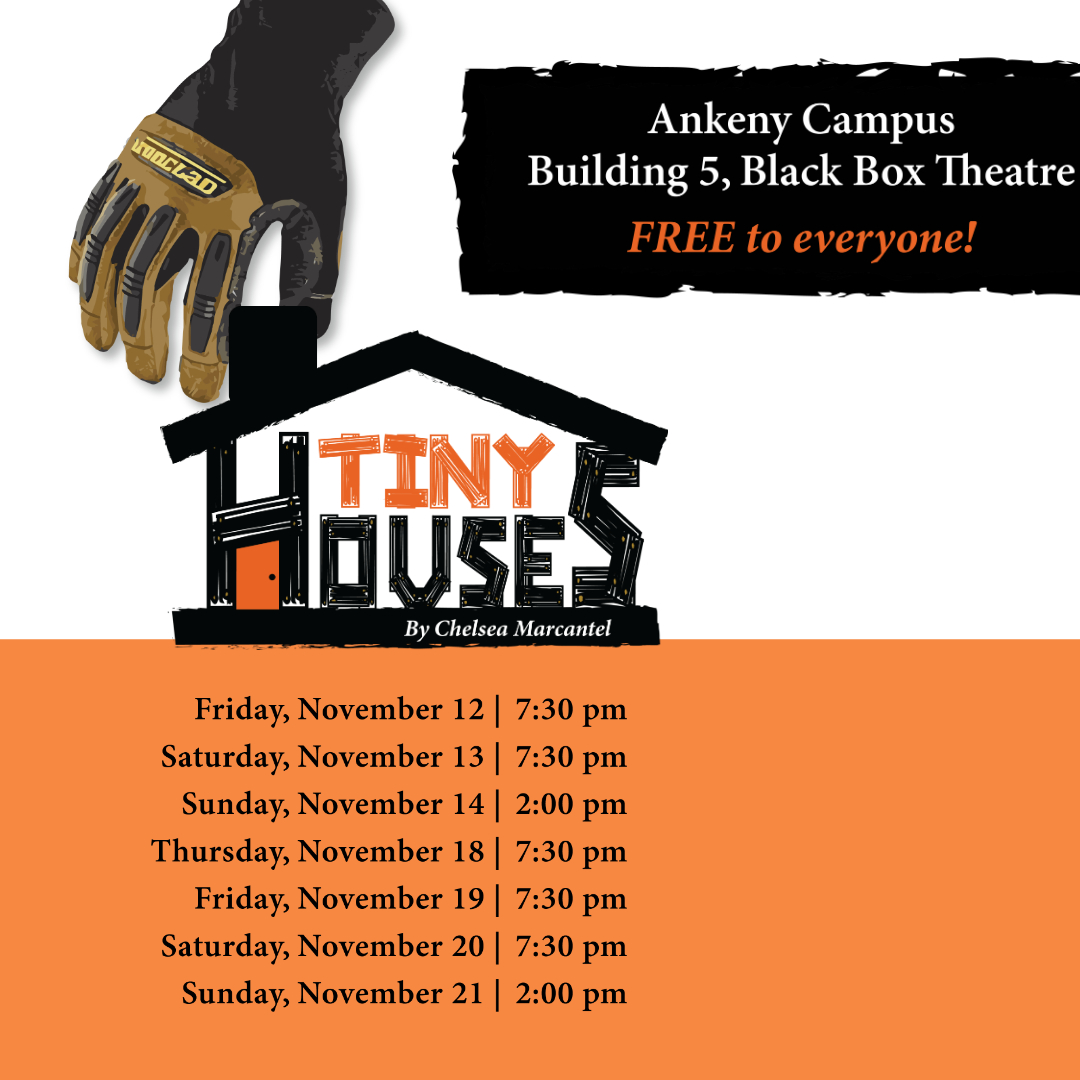 Produced by DMACC Ankeny Theatre, The Department of Liberal Arts, & Student Activities Council
FREE performances in the Black Box Theatre in Building 5 on the Ankeny Campus on:
November 12, 13, 18, 19 & 20 at 7:30 pm
October 14 & 21 at 2 pm
Setting & Scenes
Ollie's backyard in a mid-sized town in the suburbs of Portland, Oregon. Present day. The action spans 9 months:
SCENE 1 ... Week 0: The Trailer
SCENE 2 ... Week 2: The Floor
SCENE 3 ... Week 16: The Wall Frames
SCENE 4 ... Week 24: The Roof
SCENE 5 ... Week 30: The Siding
SCENE 6 ... Week 34: The Windows & Doors
SCENE 7 ... Week 36: The Tiny House
Creative Team
DIRECTOR - Sarah Kate Bode
ASSISTANT DIRECTOR - Isaac Bleich-Sisco
TECHNICAL DIRECTOR - Krister Strandskov
PRODUCTION MANAGER - Rachel Trimble
STAGE MANAGER - Chloe Ancell
SCENIC DESIGN - Rachel Trimble
TINY HOUSE DESIGN - Krister Strandskov
LIGHTING DESIGN - Rachel Trimble
SOUND DESIGN - Krister Strandskov
ASSISTANT STAGE MANAGER - Andy Funke
CREW- TBA
PRODUCER - Carl Lindberg
Cast
CATH ... Katy Crowley
BOHDI ... Faruk Garibovic
JEVNE ... Jaya Lee Daley
*JEREMIAH ... JaKharri McKinney / Isaac Bleich-Sisco
OLLIE ... Dennis McIntyre
*JaKharri McKinney performs November 12-14 and Isaac Bleich-Sisco performs November 18-21
Tiny Houses is presented by arrangement with Concord Theatricals on behalf of Samuel French, Inc. www.concordtheatricals.com
Tiny Houses was developed as part of Chautauqua Theater Company's New Play Workshop series, 2016, underwritten by the Roe Green Foundation Developed with support of the Roe Green Award at Cleveland Play House Originally Produced by CLEVELAND PLAY HOUSE Laura Kepley, Artistic Director Kevin Moore, Managing Director And CINCINNATI PLAYHOUSE IN THE PARK Blake Robison, Artistic Director Buzz Ward, Managing Director
Production Graphic Designs by Amina Ali. DMACC Ankeny Theatre logo Graphic Designs by DMACC alumnus Lucas Thul.
DMACC Ankeny Theatre is not proactively offering content ratings of shows as sensitivities vary amongst individuals and between families. For more information about any of our productions, please write to theatre@dmacc.edu.
For more information about theatre at DMACC or to engage in supporting the program, please email Program Chair, Carl Lindberg at celindberg@dmacc.edu.
About Tiny Houses
​Bohdi is a life coach. Jevne is a YouTube artist. Ollie sells haunted dolls online. Cath just left her job to move to Oregon with her new boyfriend. And they are all building a house together in the backyard. As the dwelling comes together on stage, tensions swell, discoveries are made, and long-buried feelings rise to the surface. In a world where bigger is always better, can tiny really equal happy? Or is this a recipe for disaster? A comedy about finding out who we are when the world shrinks.
Special Thanks
Shout out to our Custodial and Security teams. Thank you to Grand View University Theatre Arts. Big thanks to the Strandskov family for letting us give the trailer its stage debut!
Cast Bios
Isaac Bleich-Sisco (JEREMIAH-2nd weekend, ASSISTANT DIRECTOR, he/him) still has the same mindset, whether as assistant director or actor, to take his role and perform at 100%, no matter what. He has done multiple shows at DMACC including The Matchmaker, Romeo & Internet, The Creative Age, and Romeo & Juliet.
Katy Crowley (CATH, she/they) is thrilled to be working on her fifth DMACC production following Willy Beau Dilly, Romeo & Internet, The Creative Age, and Romeo & Juliet. She will be graduating from DMACC this semester and is grateful for working with and learning from her teachers, crew, and cast members. Katy would also like to thank her cats, Nimoy and Blanco, for listening to her run lines and being her original audience members.
Jaya Lee Daley (JEVNE, she/her) is working on her first DMACC production. She was in the ensemble of Roosevelt High School musicals such as Lion King and Addams Family. She played Rose in Roosevelt's production of Enchanted April, as well as a faintly Russian Juror 11 in 12 Angry Jurors. Jaya would like to thank her mom, grandpa, Ethan Flick, and Michael Davenport for their encouragement.
Faruk Garibovic (BOHDI, he/him) is thrilled to be working on Tiny Houses at DMACC. This is his second production, followed by 2020 Bingo performed earlier this year. He has also been in plays throughout the back end of high school; Including 12 Angry Jurors and Almost, Maine. He is excited to share a story working with such an amazing cast and team. Becoming a great Actor is a long term goal for Faruk and he will become successful in his pursuit!
Dennis McIntyre (OLLIE, he/him) is excited to be a part of his first DMACC performance. Dennis has years of performance experience in musicals, theater productions, TV appearances, and seasonal costume work. Previously Dennis was an icon character at the 13th floor haunted house in San Antonio, TX. Dennis is currently an actor for Des Moines Dinner Detective. From open mic nights to a giant armadillo suit, Dennis has filled many different shoes on his acting path. Dennis would like to thank his family for perusing his accents and comedy work at a young age.
JaKharri McKinney (JEREMIAH-1st weekend, he/him) is an aspiring actor who like other amazing actors has started out in college theatre and enjoys the work to making it big. JaKharri has also been in other DMACC performances including 2020 Bingo and Romeo & Internet. JaKharri would also like to thank all his family and friends for the continued help along the way to incredible success in the acting industry.
Crew Bios
Chloe Ancell (STAGE MANAGER, she/her) is very excited to be working on her very first DMACC play. Chloe has done numerous other plays in a high school setting including designing, directing, and managing plays. But she is very excited to move on to the college theatre experience. Chloe wishes the cast and crew a, "Break a leg!" in the least harmful way possible.
Andy Funke (ASSISTANT STAGE MANAGER, he/they) is excited to be back at DMACC for his 6th production after acting in Mauritius, Comedy of Errors, and Love's Labor's Lost, Assistant Stage Managing Fuddy Meers, and helping run lights for Ghost Bike. He also Assistant Stage Managed Anon(ymous) at Iowa State. He now works at B&B Theatres and plans to continue being involved in DMACC's theatre program.
Eli Heginger (ASSISTANT LIGHTING DESIGN, he/him) is excited to be working on the crew of Tiny Houses. This is his second production with DMACC after previously working on Romeo & Juliet. He is a freshman here at DMACC and has worked on many productions at Nevada High School. Eli would like to thank his friends, family, and mentors from Nevada for helping him get this far.
Sarah Kate Bode (DIRECTOR, she/her) is extremely excited to have Tiny Houses as her first production at DMACC. Sarah Kate joined the DMACC community this fall as an Adjunct Theatre Professor in addition to working on this show. Before returning to Iowa, she worked professionally as a Stage Manager and theatre artist for 7 years in Washington, DC on many productions including shows with Shakespeare Theatre Company, The Kennedy Center, Constellation Theatre, and Synetic Theatre. She has an AA in Theatre from Iowa Central Community College, BFA in Theatre from University of Iowa, and her MA in Art and Theatre Education from Catholic University of America. She would like to thank the cast, crew, and her family, especially Bryton Bode.
Aleka Fischer (COSTUME DESIGN, she/her) is thrilled to be working on her first production with DMACC as an alum. She recently graduated from Northwest Missouri State University. She would like to thank Christina for her support.
Rachel Trimble (PRODUCTION MANAGER & RESIDENT DESIGNER, she/her) graduated from Grand View University where she was involved in every production during her time as a student. She has many credits from Grand View and DMACC Ankeny Theatre in Design, Scenic Painting, Stage Management, Properties Design, Costume Design, and Performance. Some of her more memorable credits include Ghost Bike (Persephone/Ensemble, DAT & Grand View), and 'night Mother (Scenic Design) for which she received a National Honorable Mention at the Kennedy Center American College Theatre Festival. Rachel works here at DMACC Ankeny Theatre as the Resident Designer with many credits and has worked with various theatre companies in Des Moines. Rachel is excited to be working on Tiny Houses with this wonderful cast and crew.
Krister Strandskov (RESIDENT TECHNICAL DIRECTOR, he/him) moved to Des Moines in 2013, and since then Krister has worked with Grand View University, Whippoorwill Theatre, Stage West, Goldfinch Theater Company, Iowa Stage Theater Company, and DMACC Ankeny Theatre in a variety of roles both on and off stage, from Technical Direction to Foley Artist and everything in between. Krister feels honored to have been part of the last several productions at DMACC and is looking forward to the remainder of the 2021-2022 season.
Carl Lindberg (CHAIR OF THEATRE, he/him) has been producing theatre at DMACC since Spring of 2017. Prior to his arrival in the Des Moines metro area, Carl worked as an actor on major Chicago stages (Lookingglass, Remy Bumppo, Buffalo Theatre Ensemble, Oak Park Festival Theatre, About Face, Windy City Players, and many more), on camera in a handful of commercials and short films, and directed and designed productions in Chicago, Minnesota, Wisconsin, Pennsylvania, and California. Locally, Carl is represented by the Peak Agency, and he is incredibly proud to serve as an Adjudicator for IHSMTA, an All State Critic for IHSSA, to represent Pyramid Theatre Company as a board member, and to have performed at Tallgrass. Carl has an MFA in Directing from Western Illinois University, a BA in Acting from CSU Stanislaus, and has trained with ensemble members from Steppenwolf, The Second City, and Shakespeare & Co. Love to J, M, & D.​
---
This production is entered in the Kennedy Center American College Theater Festival (KCACTF).

The Kennedy Center American College Theater Festival, part of the Rubenstein Arts Access Program, is generously funded by David M. Rubenstein.
Special thanks to The Harold and Mimi Steinberg Charitable Trust for supporting the John F. Kennedy Center for the Performing Arts' Kennedy Center American College Theater Festival.
Additional support is provided by The Honorable Stuart Bernstein and Wilma E. Bernstein; and the Dr. Gerald and Paula McNichols Foundation.
Kennedy Center education and related artistic programming is made possible through the generosity of the National Committee for the Performing Arts.
The aims of this national theater education program are to identify and promote quality in college-level theater production. To this end, each production entered is eligible for a response by a regional KCACTF representative, and selected students and faculty are invited to participate in KCACTF programs involving scholarships, internships, grants and awards for actors, directors, dramaturgs, playwrights, designers, stage managers and critics at both the regional and national levels.
Productions entered on the Participating level are eligible for invitation to the KCACTF regional festival and may also be considered for national awards recognizing outstanding achievement in production, design, direction and performance.
Last year more than 1,500 productions were entered in the KCACTF involving more than 200,000 students nationwide. By entering this production, our theater department is sharing in the KCACTF goals to recognize, reward, and celebrate the exemplary work produced in college and university theaters across the nation.