Romeo & Juliet
Summer Short Shakespeare '21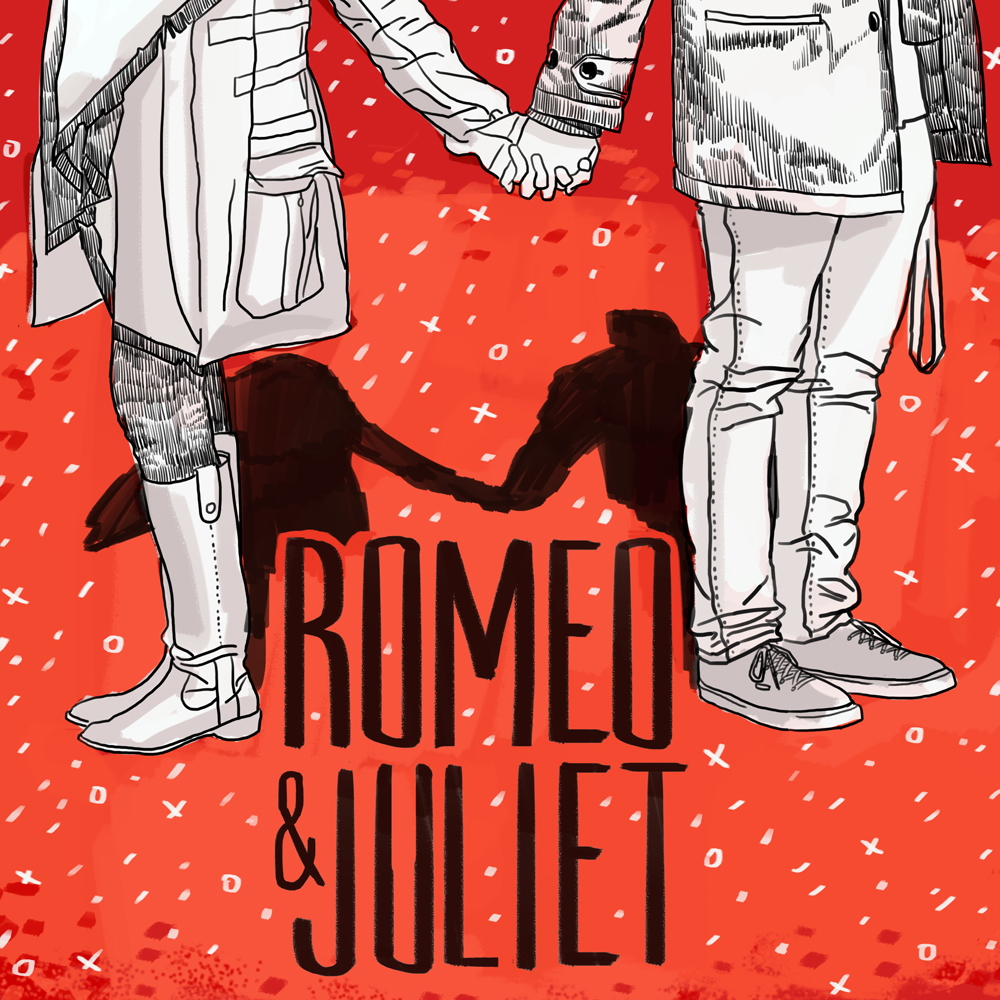 Produced by DMACC Ankeny Theatre,
The School of Liberal Arts,
and Student Activities Council
By William Shakespeare
Adapted and Directed by Carl Lindberg
FREE performances in the Black Box Theatre in Building 5 on the Ankeny Campus on:
July 16, 17, 18, 23, 24 & 25, 2021 at 7:30 pm
About Summer Short Shakespeare
Every summer we look to perform one of Shakespeare's play's that is cut to about 75-minutes total and adapted with a relevant twist. We'll also look to engage audiences with some original practices from Shakespeare's performances.
Cast
MAYOR: Katy Crowley
FRIAR: Tiffany Liechty
PARIS: Kaylynn Bousman
JULIET: Audrey Krukow
NURSE: Lo Stone
TYBALT: Isaac Bleich-Sisco
PETRA: Emily Varineau
ROMEO: David Korkow
BENVOLIO: Payton Thompson
MERCUTIO: Genevieve Sherman
Creative Team
DIRECTOR: Carl Lindberg
ASSISTANT DIRECTOR: Alex "Brownie" Brown
STAGE MANAGER: Olivia McQuerry
PRODCUTION MANAGER: Rachel Trimble
TECHNICAL DIRECTOR: Krister Strandskov
MOVEMENT & COMBAT CHOREOGRAPHER: Glen Wall
LIGHTING DESIGN: Elijah Heginger
COSTUME DESIGN: Joshua Johnson
SCENIC DESIGN: Rachel Trimble
PROPERTIES DESIGN: Krister Strandskov
SOUND DESIGN: Krister Strandskov and Carl Lindberg
ASSISTANT STAGE MANAGER: Cami Young
FIGHT CAPTAIN: David Korkow
Production Graphic Designs by DMACC alumni Katie Ryan & Smail Buljubasic. DMACC Ankeny Theatre logo Graphic Designs by DMACC alumnus Lucas Thul.
DMACC Ankeny Theatre is not proactively offering content ratings of shows as sensitivities vary amongst individuals and between families. For more information about any of our productions, please write to theatre@dmacc.edu.
For more information about theatre at DMACC or to engage in supporting the program, please email Program Chair, Carl Lindberg at celindberg@dmacc.edu.
Special Thanks
Thank you to Grand View University's Theatre Arts Department. Shout out to our fantastic security and custodial crews in Building 5.
Cast Bios
Isaac Bleich-Sisco (TYBALT) is excited to do a version of Romeo & Juliet again. This is his 4th play at DMACC. Isaac would like to say he gives 100% no matter the character he plays, as long as he changes your life for just a moment.
Kaylynn Bousman (PARIS) is excited for their first Shakespeare performance. This is their third play at DMACC after performing in Romeo & Internet and 2020 Bingo. They've been performing for about a decade now and would like to thank their mom, Melissa, for her continued support of their dreams.
Katy Crowley (MAYOR) is excited to be working on her first Shakespearean play. This is her fourth play at DMACC after performing in Willy Beau Dilly, Romeo & Internet, and The Creative Age. She would like to thank her two cats for behaving while she is at rehearsals.
David Korkow (ROMEO) is both thrilled and a bit sad to be working on what is likely one of his last productions at DMACC. He has done many productions here over the past few years as well as recently been in The Full Monty at the Ames Community Theater. He would like to thank his friends and family for their constant support, as well as you reading this, for being here to see the show!
Audrey Krukow (JULIET) is very excited to perform as Juliet! She enjoyed performing in many plays and musicals throughout middle school and high school at Urbandale. At DMACC she has played the Narrator in Willy Beau Dilly, Emilie in The Moors, and Sassafrass in The Creative Age. Audrey would like to thank all of her wonderful friends and family for supporting her.
Tiffany Liechty (FRIAR) is thrilled to return to DMACC's stage for her third Summer Short Shakespeare. Tiff has recently received her Bachelors Degree in Performing Arts with an emphasis in Acting and Directing in May of 2021 from Iowa State University. At Iowa State, Tiff participated in Facing Our Truth, Anon(ymous), and Dry Land, which was shown over Zoom due to the COVID pandemic. She also acted in Weekend Comedy as Jill at the Des Moines Playhouse as well as instructed and directed A Pirate's Tale at Story Theatre Company. During her time at DMACC, she was an Irene Ryan nominee for her work in The Wolves and Ghost Bike. Tiff would like to thank her family for their endless support as well as all the wonderful and inspiring creatives she has met along this journey.
Genevieve Sherman (MERCUTIO) is thrilled to be a part of this show and is overjoyed to return to performing in person. This is her second play at DMACC, as she was also in the Zoom production of Romeo & Internet last fall. Outside of her experience at DMACC, she has been involved in theatre for 13 years. Some of her previous roles include Madame in Roger and Hammerstein's Cinderella, Miss Lynch in Grease, Ghost of Christmas Past in A Christmas Carol, Essie Carmichael in You Can't Take It With You, and many, many more. Genevieve would like to thank YOU for being here and spending this time with us.
Lo Stone (NURSE) is thrilled to be working on her sixth play with the DMACC Theatre Department after Circle Mirror Transformation, Willy Beau Dilly, Romeo & Internet, 2020 Bingo, and The Creative Age. She has been part of the acting troupes, Yours, Mime & Ours, The Buskers of Suburbia, & The Rounding Shakespeare Company. She is in her final semester at DMACC and will transfer to Grand View University in the Fall to pursue her degree in Theater Arts. She would like to thank her main man, Mr. Stone for being the best husband she could ever imagine, and to T, P, J, C, R, J, & L, who are her reason for breathing.
Payton Thompson (BENVOLIO) is excited to be a part of her first show with DMACC Ankeny Theatre! She recently graduated with a degree in Theatre Performance from Northwest Missouri State University. There she participated in over a dozen musicals, one acts, and full length plays both on stage and backstage. She would like to thank her family for encouraging her to follow her dreams, her boyfriend for being her #1 hypeman, and her best friend for keeping her sane, even from 500 miles away.
Emily Varineau (PETRA) is making her DAT debut in Romeo & Juliet. She is a first degree black belt in Karate and enjoys being active. Emily loves photography, music, art, and traveling. She sends thanks to her family and friends for their support.
Creative Team Bios
Alex "Brownie" Brown (ASSISTANT DIRECTOR) is back again! You thought you saw the last of him... Alex "Brownie" Brown is a DMACC Theatre alum and is stoked to be the Assistant Director for the production. He is a senior at Iowa State University where he studies Performing Arts and Journalism. Most recently before this, he Stage Managed and acted in Iowa State's production of Facing Our Truth. Brownie hopes you enjoy the show because it's going to be a blast!
Elijah Heginger (LIGHTING DESIGN) is thrilled to be designing his first production at DMACC Ankeny Theatre. Even if Carl chose to avoid using the light board... He has numerous credits at his high school where he designed lights, built scenery, and crewed productions.
Joshua Johnson (COSTUME DESIGN) is excited to be designing costumes as his first experience with DMACC Ankeny Theatre. He has been a part of the DMACC Fashion Institute while a student here.
Olivia McQuerry (STAGE MANAGER) is excited to be back at DMACC for the summer. She is currently studying Theatre Design and Production at UNI and will be graduating in December.
Cami Young (ASSISTANT STAGE MANAGER) is working on their second show at DMACC after being the Stage Manager for The Creative Age. They intend to study theatre this coming Fall semester and they aspire to be an actor. Cami would like to thank their mom and Olive for their consistent support.
Glen Wall (MOVEMENT & COMBAT CHOREOGRAPHER) is stoked to be making his DMACC Ankeny Theatre debut. Glen is based in Chicago and has designed staged combat choreography and tread the boards across the lower 48 and in his home state of Alaska.
Rachel Trimble (SCENIC DESIGN, PRODUCTION MANAGER) graduated from Grand View University where she was involved in every production during her time as a student. She has many memorable Grand View credits including work on Lighting Design, Scenic Assisting and Painting, Stage Management, performance, and Scenic Design which she received a National Honorable Mention at the Kennedy Center American College Theatre Festival for 'night Mother. Rachel works here at DMACC Ankeny Theatre as the Resident Designer, and her credits include a growing number of play titles and roles.
Krister Strandskov (TECHNICAL DIRECTOR, SOUND DESIGN, PROPERTIES DESIGN, PHOTOGRAPHER) moved to Des Moines in 2013, and since then Krister has worked with Grand View University, Whippoorwill Theatre, Stage West, Goldfinch Theater Company, Iowa Stage Theater Company, and DMACC Ankeny Theatre in a variety of roles both on and off stage, from Technical Direction to Foley Artist and everything in between. Krister feels honored to have been part of the last several productions at DMACC and is looking forward to a full return of theatre for the 2021-2022 season.
Carl Lindberg (DIRECTOR) is excited to be directing our Summer Short Shakespeare for 2021. Prior to his arrival in the Des Moines metro area, Carl worked as an actor on major Chicago stages (Lookingglass, Remy Bumppo, Buffalo Theatre Ensemble, Oak Park Festival Theatre, About Face, Windy City Players, and many more), on camera in a handful of commercials and short films, and directed and designed productions in Chicago, Minnesota, Wisconsin, Pennsylvania, and California. Locally, Carl is represented by the Peak Agency, and he is incredibly proud to serve as an Adjudicator for IHSMTA, an All State Critic for IHSSA, to represent Pyramid Theatre Company as a board member, and to have performed at Tallgrass. Carl has an MFA in Directing from Western Illinois University, a BA in Acting from CSU Stanislaus, and has trained with ensemble members from Steppenwolf, The Second City, and Shakespeare & Co. Love to J, M, & D.
---
This production is entered in the Kennedy Center American College Theater Festival (KCACTF).

The Kennedy Center American College Theater Festival, part of the Rubenstein Arts Access Program, is generously funded by David M. Rubenstein.
Special thanks to The Harold and Mimi Steinberg Charitable Trust for supporting the John F. Kennedy Center for the Performing Arts' Kennedy Center American College Theater Festival.
Additional support is provided by The Honorable Stuart Bernstein and Wilma E. Bernstein; and the Dr. Gerald and Paula McNichols Foundation.
Kennedy Center education and related artistic programming is made possible through the generosity of the National Committee for the Performing Arts.
The aims of this national theater education program are to identify and promote quality in college-level theater production. To this end, each production entered is eligible for a response by a regional KCACTF representative, and selected students and faculty are invited to participate in KCACTF programs involving scholarships, internships, grants and awards for actors, directors, dramaturgs, playwrights, designers, stage managers and critics at both the regional and national levels.
Productions entered on the Participating level are eligible for invitation to the KCACTF regional festival and may also be considered for national awards recognizing outstanding achievement in production, design, direction and performance.
Last year more than 1,500 productions were entered in the KCACTF involving more than 200,000 students nationwide. By entering this production, our theater department is sharing in the KCACTF goals to recognize, reward, and celebrate the exemplary work produced in college and university theaters across the nation.