Romeo & Internet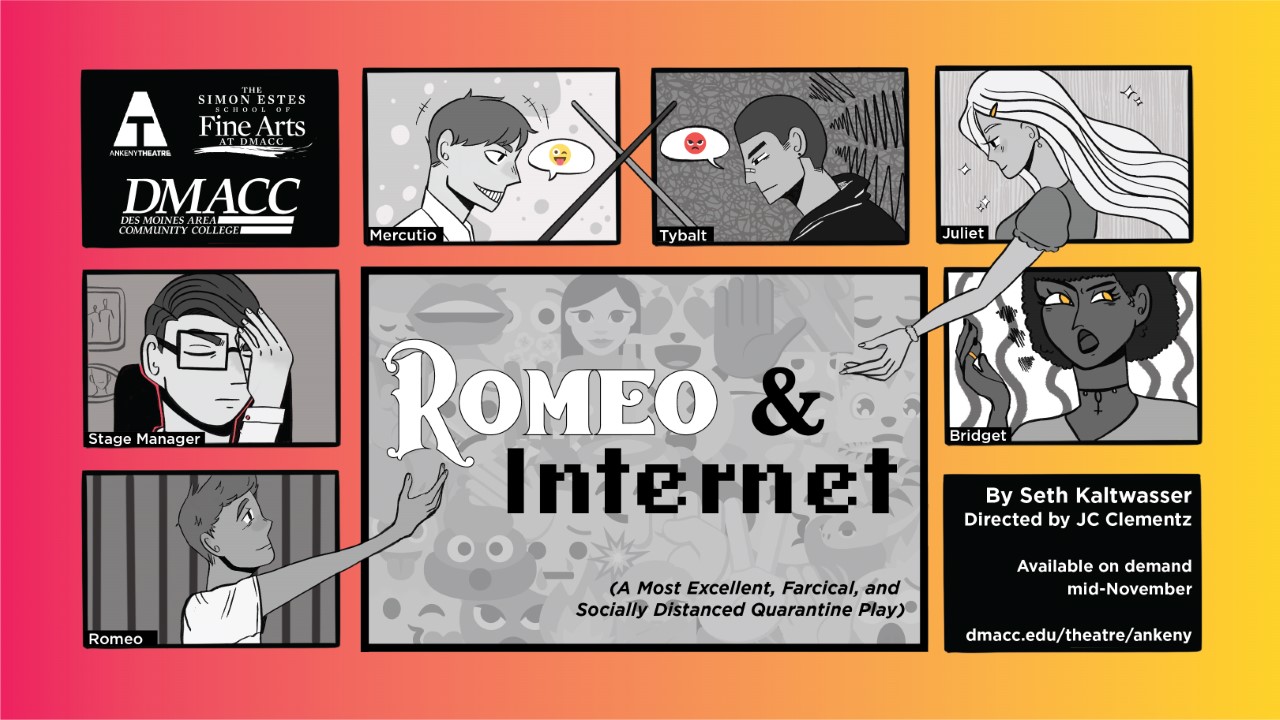 Romeo & Internet
(A Most Excellent, Farcical, and Socially Distanced Quarantine Play)
by Seth Kaltwasser
based on an idea by Carl Lindberg
Directed by JC Clementz
About Romeo & Internet
This world premiere play is available on-demand and is FREE. Commissioned and written in the Summer of 2020 as a comedic take on what rehearsals for a production of Romeo and Juliet might look like on Zoom with a group of students (and one professor) who can't help but try to find out what it means to be connected when unexpectedly forced to be apart. JC Clementz, the Cas ting Director and Artistic Producer at the acclaimed Steppenwolf Theatre Company in Chicago, directs this timely and hilarious zoom play.
Setting
Zoom March and April of 2020
Creative Team
Directed by JC Clementz
Written by Seth Kaltwasser
Stage and Production Management by Rachel Trimble
Technical Direction and Editing by Krister Strandskov
Fight Choreography by Zack Meyer
Produced by Carl Lindberg
Cast
Lucas Berg as BENVOLIO/ALEX
Isaac Bleich-Sisco as MERCUTIO
Kaylynn Bousman as the STAGE MANAGER
Macey Brackin as LADY CAP
Justin Christensen as SPEAR
Katy Crowley as LADY MONTAGUE/KAYLEIGH
Codey Gillespie as CAP/JEFF
Austin Klimpel as FRIAR LAWRENCE
David Korkow as TYBALT
Cora Larsen as PARIS
Yvette LeBaron as JULIET
Alexandria McCullah as NURSE
JaKharri McKinney as MONTAGUE
Aaron Miller as ROMEO
Genevieve Sherman as BRIDGET
Lo Stone as TEACH
Cast Bios
Lucas Berg (BENVOLIO/ALEX) is back at it, absolutely killing it with another one of his well thought out and not entirely improvised at the last second bios. You might have seen Lucas in a few things. Maybe not. Choose your own adventure. Sent from my iPhone.
Isaac Bleich-Sisco (MERCUTIO) is ecstatic to be working on Romeo and the Internet. This is his second play at DMACC after working The Matchmaker. Isaac would like to say, "no matter the role, give 100% of who you are."
Kaylynn Bousman (STAGE MANAGER) is thrilled to be a part of their first ever DMACC play. Prior to attending DMACC, Kaylynn participated in all performances at their high school in Perry, IA and received the Jeff Bice memorial drama award their senior year. Kaylynn would like to thank former director Randy Peterson.
Macey Brackin (LADY CAP) is happy to be back working with the DMACC Ankeny Theater! This is her fourth show at DMACC, after working in shows such as Fuddy Meers, Love's Labor's Lost, and The Matchmaker. She is currently attending the University of Iowa, studying theater and communications. She has plans to move to Chicago in the next year to pursue acting and continue her studies. Macey would like to thank Oliver for his love and support.
Justin Christensen (SPEAR) is ecstatic for his first performance on the DMACC stage and he looks forward to many more. Justin was very involved in theatre and drama throughout high school, most notably: 5 trips to All-State speech. He is attending DMACC for Diesel Tech. Justin would like to thank his family and friends for their continued support.
Katy Crowley (LADY MONTAGUE/KAYLEIGH) is thrilled to be working on another play. This is her second play at DMACC after working on Willy Beau Dilly. She would like to thank her internet service provider for her great connection during rehearsals.
Codey Gillespie (CAP/JEFF) is excited to be involved with his second recorded show at DMACC. He was seen in his past productions at DMACC onstage in The Matchmaker, backstage for Circle Mirror Transformation, and the summer recording of Willy Boe Dilly. Codey in the past has been involved with multiple shows both backstage and onstage and has won multiple awards for both, ranging from IHSSA All State Medals to Special Recognition for Properties.
Austin Klimpel (FRIAR LAWRENCE) is very excited to be a part of this Zoom play. This is his third production with DMACC following Willy Beau Dilly and Guys and Dolls. Austin has been in many other plays, his favorite roles being King Triton in The Little Mermaid, Dreyfus in The Pink Panther Strikes Again, and Gloin in The Hobbit, The Musical. Austin has also participated in both large group and individual speech during high school, achieving the All-State level in several categories. He would like to thank his family, friends, and teachers for pushing him into acting and giving him a chance to flourish in the theatre community.
David Korkow (TYBALT) has worked on many productions at DMACC but is thrilled to be doing something as new and exciting as this. He plans to continue pursuing theatre after DMACC and would like to thank his friends and family for all their support.
Cora Larsen (PARIS) is excited to be working on her third production at DMACC after working on stage in The Matchmaker and Guys and Dolls. Cora would like to thank her family and friends for all of their love and support.
Yvette LeBaron (JULIET) is hyped to get back into acting "on stage". This is her first DMACC play after several fun productions and various roles back in high school a few years ago. She has since done various small on camera jobs through her talent agency and continued to practice her passion, acting.
Alexandria McCullah (NURSE) is excited to be participating in this unique online play. This is her first play at DMACC. Alexandria has done other plays and musicals in high school including Our Town, Into the Woods Jr, and Beauty and the Beast Jr. Alexandria would like to thank her mom and grandma for always being her biggest fans.
JaKharri McKinney (MONTAGUE) is extremely happy to be acting in something other than his Tiktok videos. This is his first play at DMACC and hopefully not the last. JaKharri would like to thank his family, friends, and teachers for all their support.
Aaron Miller (ROMEO) loves theatre and is excited to participate in this original play. This will be his second play at DMACC following his role as Sky Masterson in Guys and Dolls. He has done numerous plays and musicals in middle school and high school and hopes to pursue acting as a career. Aaron would like to thank his parents, family, and friends for their unwavering support in his endeavors and his Super Bowl Champion Kansas City Chiefs for putting him in such a great mood after most fall Sunday afternoons.
Genevieve Sherman (BRIDGET) is delighted to be a part of this strange and exciting thing we call theatre in the year 2020. This is her first performance at DMACC. She has been involved in 23 other full productions at theatres like Iowa River Players and Iowa Central Community College. She graduated from DMACC in December 2019 with an AA in Liberal Arts and is currently a first year student in the Mortuary Science program at DMACC.
Lo Stone (TEACH) is thrilled to be part of Romeo & Internet. This is her third production with DMACC after working on Circle Mirror Transformation (Marty) and Willy Beau Dilly as an Assistant Director. She participated in numerous productions during her high school years and was an ensemble troupe member of Yours, Mime & Ours and The Rounding Shakespeare Company, all located in Denver, Colorado. She would like to thank her husband and best friend, Kenny, for his strength, humor and encouragement; and her seven beautiful children, TaPaJaCaRhyJuLil, who are her reason for breathing.
Creative Team Bios
JC Clementz (DIRECTOR) is the Casting Director and an Artistic Producer at Chicago's Steppenwolf Theatre Company. Highlights include the Steppenwolf world premieres of Linda Vista (also Broadway and Los Angeles) and The Minutes (also Broadway) both by Tracy Letts, Downstate by Bruce Norris (also National Theatre, UK), and Antoinette Nwandu's Pass Over, which was filmed at Steppenwolf by Spike Lee. He previously was the Casting Director at Milwaukee Repertory Theater. JC holds an MFA in Directing from Western Illinois University and frequently directs productions across the country. He is a proud member of SDC and CSA. www.jcclementz.com
Seth Kaltwasser (PLAYWRIGHT) is a playwright, actor, and director based in Minneapolis. For the last ten seasons, he has worked on the administrative staff for St. Croix Festival Theatre in St. Croix Falls, Wisconsin, directing several productions for the company, including 1776, The Fantasticks, and Almost, Maine. Twin Cities credits include work with Theatre in the Round, Live Action Set, Frank Theatre, and A-Stage. Original plays include This Untoward Generation!, West-facing Window, and Dick Doesn't Live Here. Seth has a BA in Theatre from St. Ambrose University.
Rachel Trimble (STAGE MANAGER, PRODUCTION MANAGER) graduated from Grand View University where she was involved in every production during her time as a student. Some of her more memorable Grand View credits include Alexander Who's Not...Going to Move (Lighting Design), Clybourne Park (Lighting Design, Scenic Asst.), Miss Nelson Is Missing (Stage Management), Ghost Bike (Persephone, Ensemble), and 'night Mother (Scenic Design) for which she received a National Honorable Mention at the Kennedy Center American College Theatre Festival. Rachel works here at DMACC Ankeny Theatre as the Resident Designer, and her credits include Fuddy Meers (Scenic, Properties Design), The Wolves (Scenic, Costume, & Properties Design), Love's Labor's Lost (Costume, Properties Design), A Midnight Dreary (Director, Lighting Design), The Matchmaker (Scenic, Lighting Design), and, most recently, Circle Mirror Transformation, Guys and Dolls, Willy Beau Dilly, and the DAT Staged Reading Series.
Krister Strandskov (TECHNICAL DIRECTOR, EDITOR) moved to Des Moines in 2013, and since then Krister has worked with Grand View University, Whippoorwill Theatre, Stage West, Goldfinch Theater Company, Iowa Stage Theater Company, and DMACC Ankeny Theatre in a variety of roles both on and off stage. Some of these productions include Our Country's Good (Foley Artist, Musician), 7/11 Theatre Project Back to Nature (Master Carpenter), Make Believe (Actor, Carpenter, Photographer), The Christians (Choral Ensemble), Ghost Bike (Carpenter, Photographer), Fuddy Meers (Technical Director), The Wolves (Technical Director), A Midnight Dreary (Scenic Design, Sound Design, Technical Direction), The Matchmaker (Technical Director) and is fresh off of productions of Circle Mirror Transformation, Guys and Dolls, Willy Beau Dilly, and the DAT Staged Reading Series. Krister feels honored to have been part of the last several productions at DMACC and is looking forward to the rest of the 2020-2021 season.
Zack Meyer (FIGHT CHOREOGRAPHER) is a Chicago Fight Director, Performer, and Educator. He is an Associate Instructor through Dueling Arts International and an Advanced Actor Combatant through the Society of American Fight Directors. He holds a BA in Theatre from Western Illinois University and an MFA in Acting at The Ohio State University. His Fight Direction and Performance credits have taken him on an amazing journey throughout the Midwest region, to a pirate ship on Lake Michigan, to China, and now to the outer reaches of Zoom.
Carl Lindberg (PRODUCER, PROGRAM CHAIR) is excited to be working on his sixteenth production at DMACC. Prior to his arrival in the Des Moines metro area, Carl worked as an actor on major Chicago stages (Lookingglass, Remy Bumppo, Buffalo Theatre Ensemble, Oak Park Festival Theatre, About Face, Windy City Players, and many more), on camera in a handful of commercial s, short films, and an Onion video, and directed and designed productions in Chicago, Minnesota, Wisconsin, Pennsylvania, and California. Locally, Carl is represented by the Peak Agency and he is incredibly proud to serve as an Adjudicator for IHSMTA, an All State Critic for IHSSA, to represent Pyramid Theatre Company as a board member, and to have performed at Tallgrass (Stop Kiss). Carl has an MFA in Directing from Western Illinois University, a BA in Acting from CSU Stanislaus, and has trained with ensemble members from Steppenwolf, The Second City, and Shakespeare & Co. Love to J, M, & D.
Production Graphic Designs by DMACC alumni Katie Ryan & Smail Buljubasic. DMACC Ankeny Theatre logo Graphic Designs by DMACC alumnus Lucas Thul.
DMACC Ankeny Theatre is not proactively offering content ratings of shows as sensitivities vary amongst individuals and between families. For more information about any of our productions, please write to theatre@dmacc.edu.
---
This production is entered in the Kennedy Center American College Theater Festival (KCACTF).

The Kennedy Center American College Theater Festival, part of the Rubenstein Arts Access Program, is generously funded by David M. Rubenstein.
Special thanks to The Harold and Mimi Steinberg Charitable Trust for supporting the John F. Kennedy Center for the Performing Arts' Kennedy Center American College Theater Festival.
Additional support is provided by The Honorable Stuart Bernstein and Wilma E. Bernstein; and the Dr. Gerald and Paula McNichols Foundation.
Kennedy Center education and related artistic programming is made possible through the generosity of the National Committee for the Performing Arts.
The aims of this national theater education program are to identify and promote quality in college-level theater production. To this end, each production entered is eligible for a response by a regional KCACTF representative, and selected students and faculty are invited to participate in KCACTF programs involving scholarships, internships, grants and awards for actors, directors, dramaturgs, playwrights, designers, stage managers and critics at both the regional and national levels.
Productions entered on the Participating level are eligible for invitation to the KCACTF regional festival and may also be considered for national awards recognizing outstanding achievement in production, design, direction and performance.
Last year more than 1,500 productions were entered in the KCACTF involving more than 200,000 students nationwide. By entering this production, our theater department is sharing in the KCACTF goals to recognize, reward, and celebrate the exemplary work produced in college and university theaters across the nation.