Fall 2023 Gourmet Dinner Themes and Dates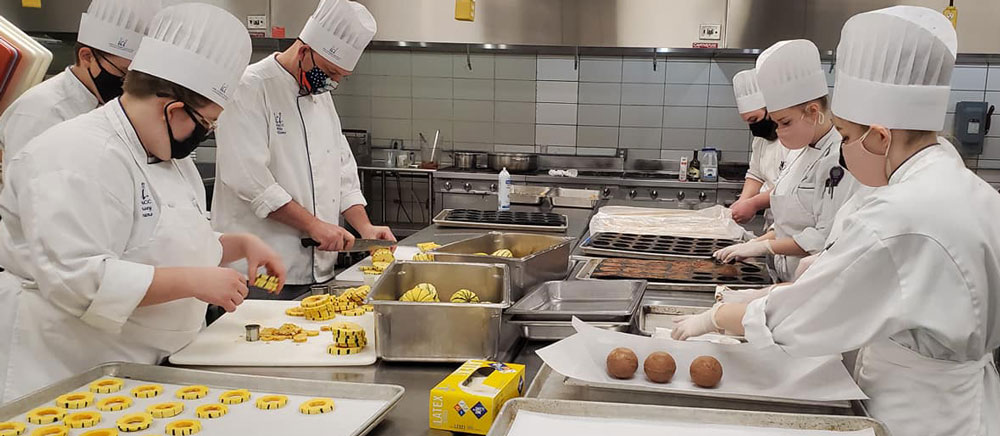 Schedule
Fleming's Prime Steakhouse Dinner at the ici®
Thursday, Sept. 14, 2023
Join us at the ici® for our annual Kick-Off for the Fall Gourmet Dinner Series with Fleming's Prime Steakhouse & Wine Bar. Executive Chef Owner/Partner Tyler Barsetti, an ICI graduate, is the 4th ICI graduate to take over at the helm of Fleming's kitchen, and he will be leading our students in preparing a special meal for you. For this dinner only, 100% of each ticket cost will be considered as credit for the ici® Toque Society, although no tax-deductible credit will be given.
New Zealand
Thursdays, Sept. 28, Oct. 5, and Oct. 12, 2023
Discover the ingredients of both land and sea from this island nation.
Catalan
Thursdays, Oct. 19, Nov. 2, and Nov. 9, 2023
Imagine an evening in Barcelona, enjoying the cuisine of one of Spain's best regional fares!
Argentine
Thursday, Nov. 30, 2023
Explore the cuisine of a country influenced by its European immigrant population.
Argentine / Ambassador Kenneth and Le Son Quinn Lecture Dinner
Thursday, Dec. 7, 2023
Three years ago, as a way to honor Ambassador Ken Quinn, former President of the World Food Prize Foundation, and his wife, Le Son, we hosted our first guest lecture from Ambassador Quinn. This year, we are excited to invite you to our fourth annual lecture and dinner, with a Q&A to follow our Argentine gourmet meal.
---
Gourmet Dinner Details
All dinners will be in the Lakeview Dining Room of the ici®, located in Building 7 on the DMACC Ankeny campus. Menus for each dinner will not be published in advance.
The cost for each dinner is $120 per person. Unless otherwise noted in the dinner descriptions above, $40 per person is tax-deductible and will be credited towards membership in the ici® Chef's Toque Society​.
Champagne or sparkling wine reception will begin in the ici® Atrium at 6 p.m., and dinner will be served at 6:30 p.m. Please do not arrive earlier than 5:45 p.m., as students need time for set up.
We are only able to accommodate dietary requests based on medical allergies or religious restrictions. Please alert us to medical or religious dietary requests upon making your reservation.