Forbes Again Ranks DMACC Among Best Places to Work in Iowa
​​DMACC is the highest ranked among all higher education institutions in the state.
DMACC is ranked the 9th best place to work in Iowa, up 20 spots from last year's ranking.
DMACC is the highest ranked among all higher education institutions in Iowa.
Forbes ranks DMACC the only community college in Iowa to be considered among the best places to work in Iowa.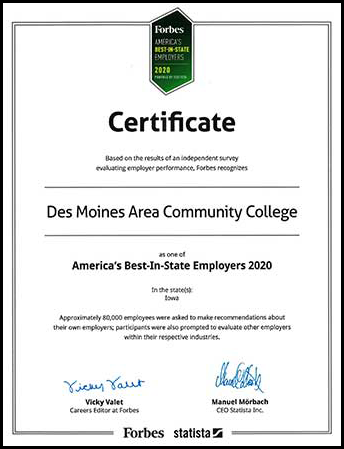 DMACC, the largest undergraduate college in Iowa, has been named one of the state's best employers in 2020, according to a new ranking by Forbes Magazine.
DMACC was also included on the list unveiled by Forbes last year when it released its inaugural list of "America's Best Employers by State."
DMACC was ranked ninth on the list this year compared to 29th last year.
The ranking in 2020 included three higher education institutions in Iowa – DMACC (#9), Iowa State University (#26) and the University of Iowa (#27).
DMACC was again the only school among Iowa's 15 community colleges to make the statewide list both in 2019 and in 2020.
"Much like the entire State of Iowa, DMACC is proud of its reputation of hard work and delivering on its mission of helping DMACC students reach their professional goals and full potential," DMACC President Rob Denson said. "DMACC's faculty, staff and administration make this happen every day and we want an environment that supports their great work. It's all about our people."
DMACC Human Resources Executive Director Jenifer Owenson echoed Denson's comments that DMACC is a best place to work because of the dedication and commitment of its faculty and staff.
"Our staff members are invested in continuously finding solutions to better serve our students and community," Owenson said. "They do this because, they simply, care. Having caring, engaged staff is at the root of a workplace that is successful."
The Forbes ranking was divided into 51 lists – one for each of the 50 states, plus the District of Columbia. Forbes and Statista created the ranking based on an independent survey from a sample of more than 80,000 U.S. employees working for companies employing at least 500 people.
Employees received the surveys through a series of anonymous online panels, providing a representative sample of the workforce. The survey asked employees to rate their willingness to recommend their employer and to also evaluate other employers in their industries.
The number of businesses ranked in each state was dependent on the number of qualifying employers and the size of the state's workforce. Businesses with operations in more than one state had the opportunity to be listed multiple times.
View the full list of "America's Best Employers By State."