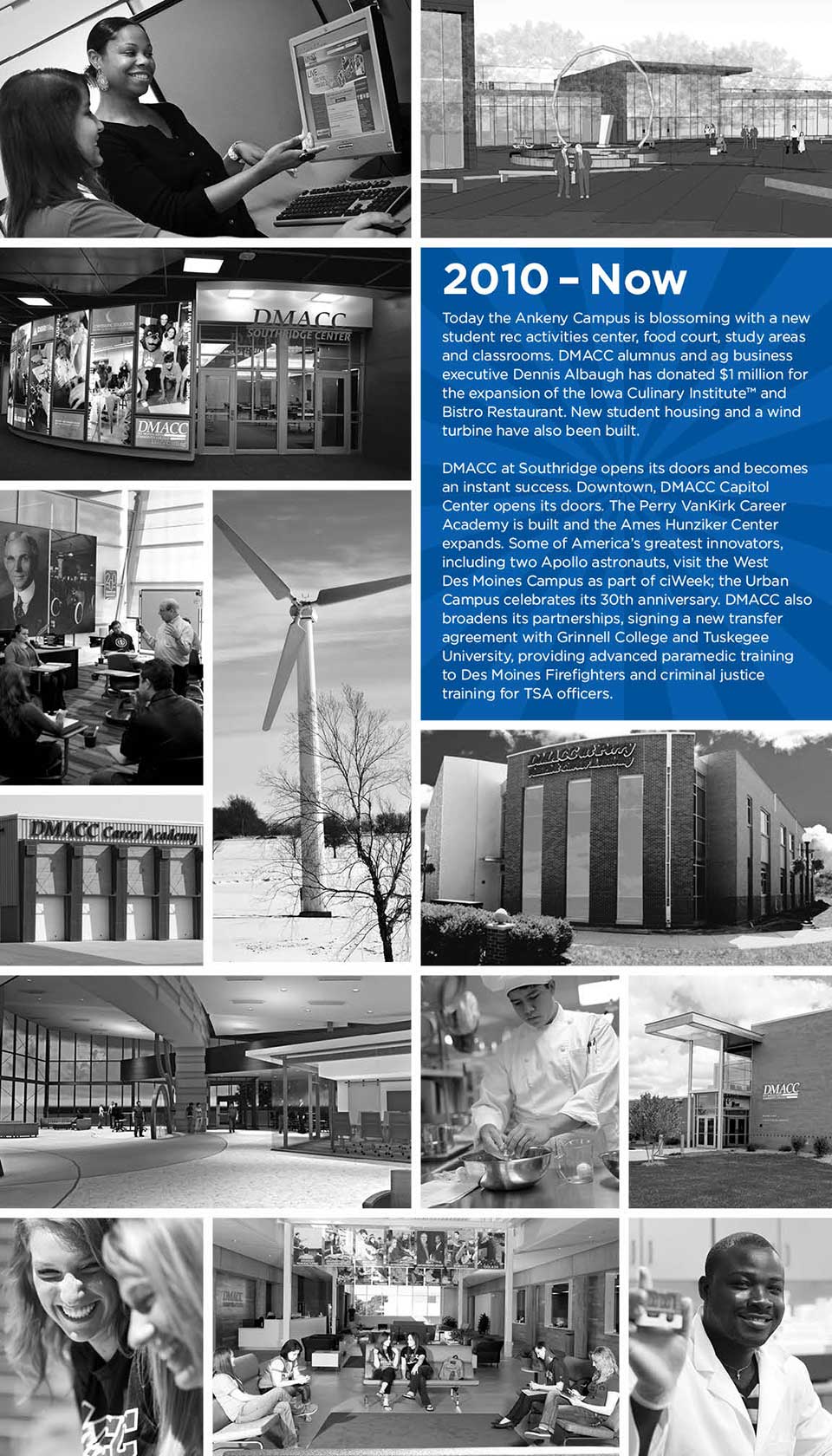 An 11-story wind turbine is installed on the DMACC Ankeny Campus. (Dec. 2010)
DMACC volleyball players Mikayla Overturf of Nora Springs, Maggie Vondrak of Sioux City and Elizabeth Inhen of Sheldon are named to the Region XI-B All-Region First Team while Natalie Weis of Bettendorf is named to the Second Team. (Dec. 2010)
The spouse of former DMACC Physical Plant employee Ray Gumtau gives the College he second largest endowed gift to DMACC in the history of the College. (Dec. 2010)
DMACC adds women's softball to its intercollegiate athletic program and will begin play with the 2011-12 school year. (Nov. 2010)
Freshman Katie Clark of Gilbert sets a new DMACC school record for the women's cross country team while competing in the National Junior College Athletic Association's (NJCAA) Division I National Championships in Spartanburg, SC. (Nov. 2010)
Nearly 500 people attend Advanced Manufacturing Conference at the FFA Enrichment Center to hear world-renowned management guru and author Tom Peters speak. (Oct. 2010)
DMACC Boone Campus student Jeff Ellis of West Des Moines is selected to travel to the National Aeronautics and Space Administration's (NASA's) Marshall Space Flight Center. (Oct. 2010)
DMACC Urban Campus turns 30 years old and holds a week-long celebration. (Oct. 2010)
DMACC's fall enrollment sets another record with headcount up 10.5 percent to 24,658 students and credit hours up 9 percent to 211,828 credit hours. (Sept. 2010)
DMACC signs an agreement to lease portions of the third and fourth floors of the Iowa Building to offer health sciences classes from the DMACC Urban Campus in the 20,000 square foot of renovated space. (July 2010)
DMACC begins offering textbook rental services at all six DMACC bookstores in the fall semester. (July 2010)
The 3-on-3 Wild, Wild West Basketball Tournament at the West Campus raises $37,500 to support scholarships for West Campus students. (July 2010)
A total of 323 medals are awarded among the 571 wines entered in the Fourth Annual Mid-American Wine Competition held on the Ankeny Campus. (July 2010)
DMACC receives $639,494 grant from the Iowa Office of Energy Independence to be used for numerous energy conservation measures across the College. (July 2010)
DMACC Board of Trustees votes to change name from DMACC Newton Polytechnic to DMACC Newton Campus. (June 2010)
DMACC sets another all-time summer term record for both enrollment, up 15 percent; and credit hours, up 19.5 percent. (June 2010) DMACC baseball player Scott Schebler of Solon is selected by the Los Angeles Dodgers in the 26th round of the Major League Baseball (MLB) draft and DMACC pitcher George Jensen is selected by the Tampa Bay Rays in the 46th round. Former DMACC players Cole Nelson and Patrick Cooper were also selected in the 2010 MLB draft. Nelson was selected by the Detroit Tigers in the 10th round (313th overall pick). Cooper was also selected by the Tigers in the 14th round (433rd overall pick). (June 2010)
DMACC baseball player Joel Hutter of Bettendorf is named to the 2010 National Junior College Athletic Association (NJCAA) Division II All-American First Team. Fellow DMACC baseball player Scott Schebler of Solon is named to the Second Team. (June 2010)
A total of 12 DMACC baseball players receive post-season honors. Scott Schebler, Joel Hutter, Ryan Torgerson, Nick Anderson, Jerrod Eigsti, Drew Freie and Hector Ponce are named to the Iowa Community College Athletic Conference (ICCAC) All-Region First Team. Brad Lamberti, Brashad Johnson and George Jensen are named to the All-Region Second Team. Sean Borman and Greg Larpenter are named to the All-Region Honorable Mention Team. Schebler is named ICCAC Player of the Year, while Torgerson is named ICCAC Pitcher of the Year. Schebler, Hutter, Anderson, Torgerson and Eigsti are also named to the All-North Plains District Team. DMACC Bears win third straight ICCAC Championship. (June 2010)
DMACC Enology/Wine Service Instructor Paul Gospodarczyk passes the Certified Sommelier Exam. (June 2010)
U.S. Senator Charles Grassley of Iowa tours DMACC's Electronic Crime Institute. (June 2010)
DMACC Carroll Campus Provost Steve Schulz receives the Shirley B. Gordon Award of Distinction from the Phi Theta Kappa International Honor Society. (May 2010)
DMACC graduate Dennis Albaugh, president and CEO of Albaugh, Inc., is honored at a reception at the FFA Enrichment Center. He was recognized locally for receiving the 2010 Outstanding Alumni Award from the American Association of Community Colleges. (May 2010)
DMACC's Women's Golf Team finishes in 11th place at the 2010 National Junior College Athletic Association (NJCAA) Women's National Championship at Daytona Beach, FL. (May 2010)
DMACC Adjunct Instructor Sarah Brown Wessling is named the 2010 National Teacher of the Year. (May 2010)
DMACC dedicates a new professional-grade baseball field on the DMACC Boone Campus. (May 2010)
DMACC's Women's Golf Team wins the National Junior College Athletic Association (NJCAA) Region II Tournament and advances to the NJCAA National Tournament in Daytona Beach, FL. (Apr. 2010)
The U.S. Department of Health and Human Services awards DMACC an $800,000 two-year grant to launch a new, non-credit Health Information Technology (HIT) certification program. It joins a two-year HIT degree program that starts in the fall of 2010. (Apr. 2010)
DMACC Medical Laboratory Technology student Jessica Scheers receives the MLT Student of the Year Award from the American Society for Clinical Laboratory Science—Iowa Chapter. (Apr. 2010)
DMACC Iowa Culinary Institute students Brent Krapfl, Stephanie Naylor, Brett Brando, Barbara Narber and Eli Rosenburg took first place in the Iowa Beef Industry Council's Intercollegiate Beef Culinary Contest. Naylor, Krapfl and Brando also captured first place in the Student Category at the American Federation of Southern Iowa competition. (Apr. 2010)
DMACC President Rob Denson is named the recipient of the A. Arthur Davis Community Leadership Award. (Apr. 2010)
Christine Keenan, Hong Willer, Erica Rasmussen and Martin Kenworthy were named 2010 Outstanding Alumni Award recipients. (Apr. 2010)
A dedication and open house is held for the new two-story, $12. 6 million FFA Enrichment Center. (Apr. 2010)
Campus View Student Housing, LLC purchases the Campus View student housing complex on the Ankeny Campus and has multi-million dollar plans to transform student housing and create a student living lifestyle center and community. (Apr. 2010)
Anne Howsare is named the Associate Provost at the DMACC Urban Campus. (Apr. 2010)
DMACC student Thomas Olmstead of Granger is selected to travel to the National Aeronautics and Space Administration's (NASA's) Johnson Space Center in Houston to participate in a three-day on-site event. He was one of only 60 students across the nation to be selected to the NASA Scholars Program. (Apr. 2010)
Fiction writers and poets read from their works at all six DMACC campuses at DMACC's eighth annual Celebration of the Literary Arts. (Apr. 2008)
DMACC Urban Campus student Thi Nguyen is awarded the outstanding accounting student award for his excellence in accounting by the Iowa Society of Certified Public Accountants. (Mar. 2010)
DMACC women's basketball players Tia Mays, Marni Jacobsen and Katlyn Wood are named to the Iowa Community College Athletic Conference Division II All-Region First Team. (Mar. 2010)
DMACC men's basketball players Brad Burton and Hal Bateman are named to the Iowa Community College Athletic Conference Division II Men's All-Region Second Team. Kannon Burrage is named to the Third Team. (Mar. 2010)
Ten DMACC students are named to the 47 person 2010 All-Iowa Academic Team. (Mar. 2010)
DMACC Journalism student Kelsey Edwards captures three honors for her journalistic writing and producing at the Better Student Newspaper Contest sponsored by the Iowa College Media Association. She earned a first place for the best explanatory news story, a third place award in the best news story category and teamed with former DMACC student Jeremy Harmsen to win third place for the best original content in the marketing video production division. (Mar. 2010)
Astronaut Alan Bean's appearance and presentations climax the iWeek 2010 activities on the DMACC West Campus. Captain Bean was an Apollo 12 and Skylab 3 astronaut and the fourth person to walk on the moon. (Mar. 2010)
The DMACC Foundation receives $35,000 in grant funds from the Prairie Meadows 2009 Community Betterment Grant Program. The funds will support two programs—adult literacy and emergency grants for DMACC students. (Mar. 2010)
For the 10th straight year, DMACC sets spring semester enrollment records in both headcount and credit hours. Spring 2010 enrollment is up 17 percent at 23,208 students. Credit hours are up 18.3 percent as students take 195,807 credit hours in the spring of 2010. (Jan. 2010)
DMACC's Electronic Crime Institute (ECI) hosts a free, three-hour conference to help consumers lower their risk for identity theft and increase their Internet safety awareness. (Jan. 2010)
To commemorate the 25th anniversary of the DMACC French Chef's exchange, a total of 31 chefs and spouses come to DMACC as guest lecturers for the Culinary Arts program. (Jan. 2010)
The Accreditation Council for Business Schools and Programs (ACBSP) has approved accreditation of DMACC's business programs (Dec. 2011)
Community College Week lists DMACC as the 15th fastest growing two-year college in America (Dec. 2011)
DMACC volleyball players Olivia Fisher and Hallie Peterson are named to the National Junior College Athletic Association (NJCAA) Region XI-A All-Tournament team (Nov. 2011)
DMACC's Cross Country Team finishes in 14th at the National Junior College Athletic Association (NJCSAA) Division I National Championships at Hobbs, NM. DMACC freshman Allana Lauck finishes in 27th place while DMACC sophomore Katie Clark places 29th (Nov. 2011)
DMACC Ankeny Campus Advisor Ahmed Onwona-Agyeman hosts former Ghana President and 2011 World Food Prize Laureate, His Excellency John Agyekum Kufuor (Nov. 2011)
DMACC President Rob Denson leads a small group of DMACC students and administrators to New York City to attend the Opportunity Nation Summit. DMACC is one of only four community colleges and eight universities nationwide invited to participate in the national event (Oct. 2011)
As part of DMACC's Spain Year activities, the U.S. Ambassador to Spain speaks to DMACC students and staff via a teleconference to all DMACC campuses (Oct. 2011)
DMACC is named by the Des Moines Register as number two on Iowa's "Top Workplaces" list, an accolade resulting from an employee survey measuring six workplace qualities (Sept. 2011)
While other community colleges experience enrollment declines, DMACC sets another fall semester enrollment record. The 3.1 percent increase marks the 12th straight year of fall enrollment growth (Sept. 2011)
DMACC baseball player Austin Urban signs a contract with the Chicago Cubs after being drafted in the 41st round of the 2011 Major League Baseball Draft (Aug. 2011)
DMACC's Automotive Technology, General Motors Automotive Service Education Program (ASEP) and Chrysler College Automotive Program (CAP) receive accreditation from the national Automotive Technician's Education Foundation (NATEF) (Aug. 2011)
DMACC's Child Development Center earns accreditation from the National Association for the Education of Young Children (NAEYC) (Aug. 2011)
Dr. Kim Linduska, Executive Vice President of Academic Affairs and Provost of the DMACC Ankeny Campus, is named the Outstanding Administrator/Manager Award recipient at the Iowa Association of Community College Trustees (IACCT) 2011 conference. DMACC Executive Chef Robert Anderson is named the Outstanding Faculty Award recipient at the IACCT Conference. DMACC graduates Dennis Albaugh and Bonnie Campbell are recognized as American Association of Community College Alumni of the Year Award winners (Aug. 2011)
The annual DMACC Foundation CEO Golf Invitational raises $158,000 for current DMACC students (July 2011)
Accumold announces the formation of a $50,000 Skills Scholarship Program to develop expert workers in tool and die, automation and robotics at DMACC leading up to 30 new high skill jobs at Accumold (July 2011)
Pete and Joyce VanKirk and Progressive Foundry receive a plaque for their $250,000 contribution to the Career Academy in Perry (July 2011)
Nearly 400 medals were awarded from 538 wine entries at the Fifth Annual Mid-American Wine Competition held at the DMACC Ankeny Campus (July 2011)
A Community Celebration and Open House is held for the new DMACC at Perry VanKirk Career Academy (July 2011)
DMACC's women's basketball team capped the 2010-11 school year with a Number 12 national ranking in academics from the National Junior College Athletic Association (NJCAA) (June 2011)
DMACC hosted a national "listening tour" with Dr. Walter Bumphus, president of the American Association of Community Colleges (AACC) during the Iowa Association of Community College Trustees Annual Conference held at the FFA Enrichment Center on DMACC Ankeny Campus (June 2011)
DMACC baseball player Blake Schmidt was named the National Junior College Athletic Association (NJCAA) Division II Defensive Player of the Year. (June 2011)
DMACC baseball player Alec Crawford was named to the National Junior College Division II World Series All-Tournament Team. Crawford set a National Junior College Athletic Association (NJCAA) record when he struck out 15 batters in the World Series tournament's second round (June 2011)
DMACC baseball player Hebraim Cordova was named Division II third-team All-American by the National Junior College Athletic Association (NJCAA.) (June 2011)
Eleven DMACC women's basketball players earned academic honors for National Junior College Athletic Association (NJCAA) Region XI. (May 2011)
Several DMACC baseball players earned postseason honors for their performance during the regular season and in district and conference play. (May 2011)
The DMACC baseball team won the ICCAC title and earned the number 1 seed in the National Junior College Athletic Association (NJCAA) Region XI. (May 2011)
Iowa Lieutenant Governor Kim Reynolds delivered the commencement address to students and guests at the DMACC Ankeny/Newton/Urban and West Campus Commencement ceremony held at Wells Fargo Arena. (May 2011)
DMACC sophomore Matt Mikkelsen of Panora finished 115th in the National Junior College Athletic Association (NJCAA) Division II Men's Golf Championship. (May 2011)
Three members of the DMACC women's golf team qualified for the National Junior College Athletic Association Division !! Women's Golf Championship. Sophomores Mandy Kohlhaas of Lu Verne, Kenidy Eckerman of Carroll and freshman Anna Rinehart of Odgen each placed in the tournament. Kohlhaas finished 59th, Eckerman tied for 92nd and Rinehart finished in 99th place. This is the second consecutive year DMACC's women's golf team has had individual players or qualified as a team for the national championship tournament. (May 2011)
Six Iowa residents received DMACC Alumni Association awards. Those individuals were: David Hade, Lorene Harris, Holly Hunter, Chris Mann, Todd Razor and Mitchel Sellers. (April 2011)
Nine DMACC students were named to the 54-person 2011 All-Iowa Academic Team. The academic team is comprised of the top scholars in the state among college students at Iowa's 15 community colleges. One student, Adam Frakes of Granger, also was named one of 50 Coca-Cola Gold Scholars as part of Coca-Cola's nationwide recognition for top scholars at community colleges. (Mar. 2011)
DMACC West Campus hosts its annual week-long Innovation Week, which featured more than 130 presentations from business leaders and CEOs from across the state who spoke about the ingredients for their own innovation that have led to their success. More than 1,000 people attended the series of seminars throughout the programming week. (Mar. 2011)
Former Iowa State University and National Basketball Association star Don Smith, now known as Zaid Abdul-Aziz, spoke to students at the DMACC Boone and Urban campuses as part of the College's Black History Month activities. (Mar. 2011)
The DMACC women's basketball team finishes its season one win shy of the national championship tournament when it drops a 75-65 game to Iowa Lakes Community College in the championship game of the Region XI finals. A game earlier the Bears had knocked off four-time defending national champion Kirkwood Community College 66-54 in the semifinal round of the tournament. The Bears finished the season with 23 - 11 record. (Mar. 2011)
The DMACC men's basketball team finished its season with a 64-58 semifinal round loss in the Region XI National Junior College Athletic Association tournament to Kirkwood Community College. The Bears finished the season with a 23-8 record. (Mar. 2011)
DMACC students Enrique Hilst Robles and Casey Scheetz were selected to travel to the National Aeronautics and Space Administration's (NASA's) Jet Propulsion Laboratory to participate in a hands-on engineering project. (Mar. 2011)
The DMACC Urban Campus Phi Beta Lambda (PBL) student business organization participated in the State Leadership Conference held at Wartburg College. DMACC students earned numerous individual and chapter awards. (Mar. 2011)
DMACC's new textbook rental program, offered at six campuses, has saved students $307,000 since it was offered last fall. In the two semesters it has been offered, 6,556 students participated in the program. (Mar. 2011)
An increase of more than 2,100 students to earn their General Equivalency Diploma (GED) from DMACC created the highest total number of students among Iowa's community colleges to complete the coursework in the same two year period. (Mar. 2011)
DMACC women's basketball players earned NJCAA postseason honors. Katlyn Wood was named to the Region XI All-Region First Team and Region XI All-Tournament Team. Sam Thrapp was named to the Region XI Second Team and Carli Bunning was named to the Region XI Third Team and to the Region XI All-Tournament Team. (Mar. 2011)
DMACC men's basketball players earned NJCAA postseason recognition. Kannon Burrage, was named to the Region XI All-Region First Team. Hal Bateman and E.J. Hicks were named to the Region XI All-Region Second Team. Cole Martin was named to the All-Region XI Honorable Mention. (Mar. 2011)
DMACC women's basketball team finished the season with a loss to Iowa Central Community College in the National Junior College Athletic Association (NJCAA) Region XI Division II championship game at the DMACC gymnasium. (Mar. 2011)
The DMACC Foundation received a $30,000 grant from Prairie Meadows Racetrack and Casino through its 2010 Community Betterment Grant program. The funds go to DMACC's Adult Literacy Program and the College's Student Emergency Grant Program. (Mar. 2011)
Midwest Wheel President and Chief Executive Officer Mike Callison presented a check of $10,000 to DMACC President Rob Denson. The check is for the DMACC Midwest Wheels Scholarship Fund that is used for student scholarships. (Feb. 2011)
DMACC set an enrollment record with nearly 23,700 students attending class in the spring semester. It was a 6.27 percent increase of students from the spring 2010 semester. (Feb. 2011)
DMACC Boone Campus Associate Professor of Spanish, Stacy Amling has been selected as Phi Theta Kappa 2011 Faculty Scholar. (Feb. 2011)
DMACC Accounting professor Shea Mears was recognized with the Martin Luther King Jr. Service Award for his more than 500 hours of community service during the year to coordinate DMACC's free tax service program that serves area community residents during tax season. Mears has coordinated the program for eight years, which annual provides tax assistance and counseling to more than 440 people. (Jan. 2011)
DMACC's Career Advantage program receives an accreditation from the National Alliance of Concurrent Enrollment Partnerships (NACEP). (Jan. 2011)
The Transportation Security Administration (TSA) selects DMACC to provide federally-approved career development to associates working security at the Des Moines International Airport and other locations; and DMACC launches a new Homeland Security emphasis in its Criminal Justice program. (Jan. 2011) 2010
An 11-story wind turbine is installed on the DMACC Ankeny Campus. (Dec. 2010)
DMACC volleyball players Mikayla Overturf of Nora Springs, Maggie Vondrak of Sioux City and Elizabeth Inhen of Sheldon are named to the Region XI-B All-Region First Team while Natalie Weis of Bettendorf is named to the Second Team. (Dec. 2010)
The spouse of former DMACC Physical Plant employee Ray Gumtau gives the College he second largest endowed gift to DMACC in the history of the College. (Dec. 2010)
DMACC adds women's softball to its intercollegiate athletic program and will begin play with the 2011-12 school year. (Nov. 2010)
Freshman Katie Clark of Gilbert sets a new DMACC school record for the women's cross country team while competing in the National Junior College Athletic Association's (NJCAA) Division I National Championships in Spartanburg, SC. (Nov. 2010)
Nearly 500 people attend Advanced Manufacturing Conference at the FFA Enrichment Center to hear world-renowned management guru and author Tom Peters speak. (Oct. 2010)
DMACC Boone Campus student Jeff Ellis of West Des Moines is selected to travel to the National Aeronautics and Space Administration's (NASA's) Marshall Space Flight Center. (Oct. 2010)
DMACC Urban Campus turns 30 years old and holds a week-long celebration. (Oct. 2010)
DMACC's fall enrollment sets another record with headcount up 10.5 percent to 24,658 students and credit hours up 9 percent to 211,828 credit hours. (Sept. 2010)
DMACC signs an agreement to lease portions of the third and fourth floors of the Iowa Building to offer health sciences classes from the DMACC Urban Campus in the 20,000 square foot of renovated space. (July 2010)
DMACC begins offering textbook rental services at all six DMACC bookstores in the fall semester. (July 2010)
The 3-on-3 Wild, Wild West Basketball Tournament at the West Campus raises $37,500 to support scholarships for West Campus students. (July 2010)
A total of 323 medals are awarded among the 571 wines entered in the Fourth Annual Mid-American Wine Competition held on the Ankeny Campus. (July 2010)
DMACC receives $639,494 grant from the Iowa Office of Energy Independence to be used for numerous energy conservation measures across the College. (July 2010)
DMACC students Adam Mykris of Cedar Rapids and Christian Jones of Huxley are selected to attend the National Community College Aerospace Scholars project and spend three-days learning from NASA engineers (Nov. 2012)
DMACC Cross Country team finished in 39t place in the National Junior College Athletic Association (NJCAA) Division I cross country national championships. (Nov. 2012)
Officials from DMACC and Macerich, owners of Southridge, unveil plans, architectural drawings and details of a new 64,000 square foot, $14-million educational facility at Southridge. (Nov. 2012 )
DMACC volleyball players Hallie Mueth and Mia Pierson are named to the Iowa Community College Athletic Conference (ICCAC) All-Conference First Team and to the National Junior College Athletic Association All Region XI Team. Sheila Menezes, Roxanne Grundmeier, Jordan Leehy and Taylor Salisbury also receive all region and all-conference recognition. (Nov. 2012)
The presidents of DMACC and Grinnell College sign an articulation agreement to encourage qualified DMACC students to transfer to the private, four-year liberal arts college. (Nov. 2012)
DMACC is recognized as one of the top 20 community colleges for excellence in International Business Education. (Oct. 2012)
DMACC President Rob Denson and Drake University President David Maxwell announce a new STEM (Science, Technology, Engineering and Mathematics) partnership for Elementary Education students. (Oct. 2012)
U.S. Labor Secretary Seth Harris toured the Ankeny Campus Welding Lab and announced a nearly $13 million federal grant to the Iowa Advanced Manufacturing Consortium consisting of all 15 community colleges in Iowa. (Oct. 2012)
"Path of Peace" sculpture by Iowa artist Ron Dinsdale is dedicated on the Urban Campus. (Sept. 2012)
The DMACC Perry VanKirk Career Academy earns a Leadership in Energy and Environmental Design (LEED) Silver certification. (Aug. 2012)
Central Iowa veterans tell their stories on stage through a national theatrical effort called, "The Telling Project" on the DMACC Ankeny Campus. (Aug. 2012)
A total of 447 medals were awarded from 619 wine entries at the Sixth Annual Mid-American Wine Competition held at the DMACC Ankeny Campus (July 2012)
The National Postsecondary Agricultural Student Organization (PAS) relocates its national office to the DMACC Ankeny Campus. DMACC Agri-Business Chair Craig McEnany becomes the new Executive Director of the organization. (July 2012)
Greg Martin becomes Vice President of Business Services succeeding retiring Doug Williams (July 2012)
DMACC men's basketball team was named the 2011-12 Academic Team of the Year by the National Junior College Athletic Association (NJCAA) after compiling a 3.21 grade point average. (June 2012)
DMACC basketball players Ashley Hagedorn and Ann Walker received the Exemplary Academic Achievement Award and Carrie Wood earned the Super Academic Achievement Award from the National Junior College Athletic Association (NJCAA). (June 2012)
DMACC baseball players Alec Crawford of Wilton and Alex Lashomb of Inver Grove Heights, Minn. are named National Junior College Athletic Association (NJCAA) Division II All-Americans. Pitcher Crawford was named to the first team, first baseman Lashomb was named to the third team. (June 2012)
Fifteen DMACC softball team members earn National Junior College Athletic Association (NJCAA) Region XI All-Region academic honors. (June 2012)
DMACC baseball team wins first game and then loses the next two games in National Junior College Athletic Association (NJCAA) Division II Baseball National Championship and was eliminated from the tournament. (June 2012)
DMACC golfers Andy Fraser and Nate Schill tied for 44th place in the National Junior College Athletic Association (NJCAA) Division II National Tournament. (May 2012)
DMACC baseball players Alex Crawford, Nick Dolsky, Alex Lashomb and Edwin Medina are named to the North Plains District All-District Baseball Team. (May 2012)
Twelve DMACC baseball players receive National Junior College Athletic Association (NJCAA) Region XI honors. The players include: Alec Crawford, Alex Lashomb, Nick Dolsky, Blake Schmit, Edwin Medina, Sean Moore, Paul Voelker, Cody Williams, Colin Keefe, Brad Lamberti, Jake Knauss and Dalton Leuschke (May 2012)
DMACC's baseball team wins the North Plains District and advances to the National Junior College Athletic Association (NJCAA) Division II National Championship. (May 2012)
DMACC's women's golf team finished in 10th place at the National Junior College Athletic Association (NCJAA) National Championship in Daytona Beach, FL (May 2012)
Emily Heger, Michael Anant, Dr. Katheryn Howe, Carma Herring and Dr. Jason Doty are named DMACC Alumni Association awards. (May 2012)
DMACC baseball team wins its fourth Region XI title in the past five seasons after an unexpected ending in the championship game. (May 2012)
"Path of Peace" sculpture installed at DMACC Urban Campus. (May 2012)
Ten members of the DMACC softball team receive National Junior College Athletic Association (NJCAA) Region XI All-Region honors. MacKenzie Alstott, Sydney McCune, Brittney Lee, Kourtni Robinson, Jayden Ott, Kylie Rabe, Paige Osterberg, Ali Miner, Carlee Grunder and Kaili Wells were honored. (May 2012)
DMACC men's golfers Andy Fraser of Huxley and Nate Schill of Gowrie advanced to the National Junior College Athletic Association (NJCAA) Division II Men's Golf National Championships. (May 2012)
DMACC's softball team wins the National Junior College Athletic Association (NJCAA) Region XI championship and advances to the NJCAA Division II Softball National Championship. (May 2012)
DMACC clinches its fifth consecutive Iowa Community College Athletic Conference (ICCAC) baseball championship. (May 2012)
Honorary degrees are awarded to 101-year old Lois Bright and the Father of Iowa's Community Colleges, Jack Kibbie, at the DMACC Commencement Ceremonies held May 2 at Wells Fargo Arena. (May 2012)
DMACC Boone Campus student Anthony Ames of Boone is elected the Division III International Vice President of the Phi Theta Kappa Honor Society. (April 2012)
U.S. Secretary of Education Arne Duncan and Assistant Secretary of Education Brenda Dann-Messier host a town hall meeting on the Ankeny Campus while unveiling the Obama Administration's "Blueprint for Transforming Career and Technical Education. (April 2012)
The DMACC baseball team's 18-game winning streak ends. (April 2012)
DMACC President Rob Denson is appointed to the Gateway to College National Network Board. (April 2012)
DMACC men's basketball player Nate Mason of Cincinnati is named a third-team All-American. (April 2012)DMACC hosts an Iowa Veterans Career Retreat to help veterans achieve their career goals. (April 2012)
Boone Campus student Sarah Woods of Boone is selected to travel to NASA's Jet Propulsion Laboratory as part of the National Community College Aerospace Scholars Program. (March 2012)
DMACC women basketball players Sam Thrapp of Davenport and Ashley Hagedorn of Irwin are named to the Region XI first team, Joscelyn Coleman of Shenandoah and Ann Walker of Exira garnered second-team honors and Carrie Wood of Martensale and Jordan Wood of Monroe receive honorable mention recognition (March 2012)
Men's basketball players Nate Mason of Cincinnati and Cole Martin of Omaha are named to the Region XI All-Tournament Team. (March 2012)
Ten DMACC students are named to the 58-person 2012 All-Iowa Academic Team. The academic team is comprised of the top scholars in the state among college students at Iowa's 15 community colleges. (March 2012)
DMACC women's basketball player Ashley Hagedorn of Irwin is named to the Region XI All-Tournament Team. (March 2012)
U.S. Under Secretary Martha Kanter visits two DMACC events and speaks on the role community colleges play in the Obama Administration's higher education agenda. (March 2012)
U.S. Army Major General David Mann highlights a National Security issue during a DMACC West Campus visit. (March 2012)
Construction begins on a fifth apartment building on the DMACC Boone Campus. (Feb. 2012)
Tickets to Steve Wozniak's iWeek presentation at the West Campus were distributed in 10 minutes during online registration. (Feb. 2012)
DMACC Dental Hygiene students Meagan Pletcher of Garner and Rene Williams of Woodward are selected to go to Japan as part of an exchange between DMACC's Dental Hygiene program and the Yamanashi Dental College of Kofu. The exchange began in 1988. (Feb. 2012)
U.S. Secretary of Agriculture and former Iowa Governor Tom Vilsack headlines a roundtable discussion with Iowa agriculture and business leaders in DMACC's Center for Advanced Manufacturing. (Feb. 2012)
DMACC sets a new spring semester enrollment record for the 12th consecutive year as 24,580 students take 206,698 credit hours. The increase is 3.7 percent higher than the spring semester one year earlier. (Feb. 2012)
DMACC launches DMACC Mobile®, a new website specifically designed for mobile communication devices. (Jan. 2012)
DMACC Volleyball player Sheila Menezes of Guarulos, Brazil is named a National Junior College Athletic Association (NJCAA) Division II Volleyball All-American. (Nov. 2013)
Five DMACC volleyball players earn postseason honors. Sheila Menezes of Guarulos, Brazil is named to the all-tournament team at the National Junior College Athletic Association (NJC AA) Division II National Championship, NJCAA XI-A All-Tournament Team, the Iowa Association of Community College Athletic Conference (ICCAC) All-Conference Team and the NJCAA Region XI All-Region First Team. Sarah Frisch of Grundy Center is named to the NJCAA Region XI-A All-Tournament Team and All-Conference First Team. Barbara Soranzo of Ipe, Brazil is named to the NJCAA Region XI-A All-Tournament Team, the ICCAC All-Conference Second-Team and the NJCAA Region XI All-Region First Team. Sara Jesse of LaPorte City and Mackenzie Grimm of West Bend are named to the All-Conference Honorable Mention team. Grimm is also named to the NJCAA Region XI All-Region Second Team. (Nov. 2013)
DMACC volleyball team finishes in eighth place in the National Junior College Athletic Association (NJC AA) Division II National Championship. (Nov. 2013)
Former DMACC Business Administration Professor John Brockelsby in named the interim provost at the Carroll Campus, replacing Steve Schulz who resigned to become president at North Iowa Area Community College. (Nov. 2013)
A housing partnership is signed between Drake West Village and DMACC allowing DMACC students to live on a college campus near downtown Des Moines. (Nov. 2013)
DMACC President Rob Denson completes his 10th year as president of DMACC. (Nov. 2013)
DMACC women's basketball player Carlee Schuhmacher signs a national letter of intent to play basketball at North Carolina State University. (Nov. 2013)
DMACC's cross country team finishes in 32nd place in the National Junior College Athletic Association (NJCAA) Division I National Championship. (Nov. 2013)
Volleyball team wins the National Junior College Athletic Association (NJCAA) Region XI-A championship match and qualifies for the national tournament. (Nov. 2013)
Volleyball Coach Patty Harrison records her 600th career victory. (Nov. 2013)
American Welding Society President Nancy Cole visits the 32-welding bays at the Southridge Center, which are part of the Iowa Welding Institute. (Oct. 2013)
Iraq veteran and author Brian Castner speaks at DMACC campuses and talks about his book, The Long Walk, which was selected as the "One Book, One College, One Community" book for DMACC for the 2013-14 academic year. (Oct. 2013)
The Los Angeles Dodgers name former DMACC baseball player Scott Schebler the Branch Rickey Minor League Player of the Year. (Sept. 2013)
DMACC hosts an open house for its Center for Advanced Manufacturing. (Sept. 2013)
DMACC's Health and Public Service classes move from the Iowa Building next door to the Capitol Medical Office Building in Des Moines. (Sept. 2013)
DMACC's 20 ¼ and 6 cent levies are overwhelmingly approved by voters within the DMACC district. (Sept. 2013)
The DMACC Center for Career and Professional Development at Southridge opens. (Aug. 2013)
The DMACC Foundation raises $155,000 at its golf outing, without a single golfer walking the course. DMACC Alumnus Dennis Albaugh's private course, Talons of Tuscany, was not available because of redesigning the course. (Aug. 2013)
DMACC President Rob Denson is named Vice-chair of the Gateway to College National Board (July 2013)
A total of 409 medals were awarded at the Seventh Annual Mid-American Wine Competition held at the DMACC Ankeny Campus (July 2013)
DMACC Newton Campus Welding student Nathan Stratton of Baxter finishes third in the nation in the welding division at the National Skills USA Competition in Kansas City. (July 2013)
Retired Ankeny City Manager Carl Metzger is appointed to the DMACC Board of Directors to replace Ben Norman. (June 2013)
DMACC men's basketball player Michael Aldeman of Iowa City, softball player Shelby Kramer of Creston and volleyball player Mia Pierson of Ames are honored by the National Junior College Athletic Association (NCJCAA) for Superior Academic Achievement. Softball player Mackenzie Alstott of Fort Dodge, men's golfer Matt Lageman of Carroll and women's golfer Taylor Wadle of Pleasantville are honored for their Exemplary Academic Achievement. (June 2013)
DMACC's women's basketball team is honored for having a 3.46 grade point average, the co-leader in the National Junior College Athletic Association Division II. (June 2013)
DMACC's Ankeny Campus Beta Epsilon Eta chapter of the Phi Theta Kappa Honor Society is named a "Five Star Chapter." (June 2013)
Mari Silliman of Winterset and Mackenzie Alstott of Fort Dodge are named to the 2013 National Fastpitch Coaches Association (NFCA) National Junior College Athletic Association All-American First Team. Jayden Ott of Nora Springs is named to the Second Team. (June 2013)
DMACC baseball player Edwin Medina of Toa Baja, Puerto Rico, is named to the first team of the National Junior College Athletic Association (NJCAA) Division II All-American Team. (June 2013)
Seventeen members of the DMACC softball team are named to the National Junior College Athletic Association (NJCAA) Region XI All-region Academic Team. Jayden Ott, Kaili Wells, Ashley Madsen, Mackenzie Alstott, Shelby Kramer, Mari Silliman, Kourtni Robinson, Britney Lee, Abigail Thomsen, Lynsie Sievertsen, Kaylee Buch and Katlin Briley earn first-time honors. Makenna Slight, Ali Miner, Carlee Grunder, Taylor Baggett and Allison Fitzgerald are named to the second-team. (May 2013)
Eleven members of the DMACC softball team earn All-Region honors. Mari Silliman of Winterset, Britney Lee of Ada, Okla, Jayden Ott of Nora Springs, Ali Miner of Waukee, Mackenzie Alstott of Fort Dodge, Kaili Wells of Topeka, Kan,. And Katlin Briley of Creston are named to the All-Region first team. Kourtni Robinson of Pleasant Hill, Carlee Grunder of Wilton and Allie Fitzgerald of Des Moines earn second-team honors. Kaylee Buch of Clarinda garners honorable mention recognition. Alstott is also named Defensive Player of the Year. (May 2013)
DMACC men's golfer Andy Fraser qualifies for the National Junior College Athletic Association (NJCAA) Division II National Championship to be held in Scottsboro, Ala. Fraser also qualified for the national tournament as a first-year DMACC Boone Campus student. (May 2013)
DMACC French Professor and Coordinator of the DMACC French Chefs Exchange program Maura Nelson receives the L'Ordre des Palmes Académiques (The French Academic Palms) award. The French Academic Palms recognizes those who have rendered eminent service to French education and have contributed actively to the prestige of French culture. (May 2013)
The DMACC women's golf team qualifies for the National Junior College Athletic Association (NJCAA) National Championship to be played at Longbow Golf Club in Mesa, Arizona. (April 2013)
The DMACC baseball team is ranked first in the nation according to the Division II poll released by the National Junior College Athletic Association (NJCAA). (April 2013)
The National Junior College Athletic Association (NJCAA) names DMACC women's basketball player Carlee Schuhmacher of Watertown, Wis. to its Division II First All-American Team. She is believed to be the first DMACC women's basketball player to receive NJCAA first team All-American honors. (April 2013)
DMACC Boone Campus student Joshua Stevens of Sioux City receives the prestigious Jack Kent Cooke Scholarship. The scholarship will pay all tuition, books, fees and living expenses for the final two to three years necessary to achieve a Bachelor's degree. This scholarship would easily amount to more than $100,000 of academic assistance. (April 2013)
Nine DMACC students are named to the 2013 All-Iowa Academic Team. They include Kathleen Boatwright of Des Moines, Josi Arguello of Newton, Bradlee Beadle of Des Moines, Joshua Stevens of Sioux City, Sonya Dunn of Carroll, Caitlin Hainley of Mingo, Phillip Porter of Des Moines, Jaime Kline of Des Moines and Lucas Hall of Ames. Dunn was also named the New Century Scholar for being the4 student who "scored" the highest among the All-Iowa Academic Team applicants. Stevens was named one of the Coca-Cola Silver Scholars, while Hainley was named a Coca-Cola Bronze Scholar. (April 2013)
DMACC hosts Opportunity in Iowa Form to address high youth dropout rates and unemployment. (April 2013)
The family of Dorothy A. Wyant of Ankeny creates the DMACC Foundation Dorothy A. Wyant Elementary Education STEM Certificate Scholars Program, awarding at least $5,000 in scholar awards for approximately 25 years. (March 2013)
DMACC sophomore basketball player LaTree Russell of Chicago is named to the National Junior College Athletic Association (NJCAA) Region XI All-Region First Team. (March 2013)
DMACC first-year basketball player Carlee Schuhmacher of Watertown, Wis. is named to the National Junior College Athletic Association (NJCAA) Region XI All-Region first Team and the All-Region Tournament Team. Kelsey Fynaardt of Pella, Jasmine McCoy of Bellevue, Neb. And Taryn Wicks of Jewell earn second-team honors with Jalissa Felici of Bellevue Neb. being named to the third-team. (March 2013)
Daymond John, one of the "Sharks" on the ABC reality show Shark Tank and founder of fashion brand "FUBU;" Jessica Matthews and Julia Silverman, founders and inventors of the SOCCKET soccer ball that doubles as a portable generator; John Gaeta, Academy Award-winning visual effects designer best known for his work on the Matrix film trilogy and Dr. Gene William Poor, founder of LifeFormations, an animatronics studio that has created animated figures for museums, retailers and theme parks, were keynote speakers at the 2013 Celebrate! Innovation Week event at the DMACC West Campus. (March 2013)
The Chinese Association of Iowa's 25 Years Celebration Committee has selected DMACC as its Leadership in Diversity Award recipient for 2013. (Feb. 2013)
DMACC's Iowa Culinary Institute (ICI) students cook 6,500 pounds of bacon to be served at the Blue Ribbon Bacon Festival. (Feb . 2013)
A technology lab at the Evelyn K. Davis Center for Working Families is named the Prairie Meadows Racetrack and Casino, Inc. Technology Lab following a $100,000 Prairie Meadows Legacy Grant award. (Jan. 2013)
DMACC becomes the first institution in Iowa to administer the General Education Degree (GED) by computer. (Jan. 2013)
DMACC's Agribusiness program is honored as the National Association of Agricultural Educators (NAAE) Region III Outstanding Postsecondary/Adult Program. (Jan. 2013)
Dennis and Susan Albaugh present separate $1 million gifts to the DMACC Culinary Arts expansion and Ankeny School's stadium renovation project (Dec. 2014)
The Hunziker family donates a five-acre plot of ground next to DMACC's Hunziker Center in Ames. The land value is estimated at $350,000 (Dec. 2014)
DMACC Volleyball players freshman Taylor Case of Preston, Minn. earns first team All-American honors while freshman Shelby Scho0uten of Alton is named to the second team (Dec. 2014)
The DMACC men's basketball team starts the second off with a 10-0 record and are ranked first in the nation in the first Division II poll of the season from the National Junior College Athletic Association (NJCAA) (Dec. 2014)
•DMACC Urban Campus Professor Carrie Morris of Norwalk receives the Iowa World Language Association's (IWLA) Postsecondary Educator of the Year Award (Nov. 2014)
The DMACC Volleyball team finishes sixth in the nation at the National Junior College Athletic Association (NJCAA) Division II National Championship held in Phoenix, Arizona. Freshman Taylor Case of Preston, Minn. is named to the all-tournament team (Nov. 2014)
DMACC Automotive Technology Instructor Mark Armbrecht is named the Motor Age Training/Automotive Service Excellence (ASE) Master L1 Technician of the Year Award recipient (Nov 2014)
Seven members of the DMACC volleyball team earn postseason recognition. Sophomores Nevada Meis of Council Bluffs and Kaitlynn Voight of Dakota City and freshman Taylor Case of Preston, Minn. are named to the NJCAA Region XI-B Al-Tournament Team with Case being named the Most Valuable Player. Case, Vought, and freshman Shelby Schouten of Alton are named to the NJCAA XI-B First Team with Meis and sophomore McKenzie Grimm of West Bend being named to the second team. Second team Iowa Community College Athletic Conference (ICCAC) honors went to Grimm and sophomore Amber Huttmann of Council Bluffs. Meis and sophomore Breonnhia Bailey of Pleasant Hill earn all-conference honorable mention recognition (Nov. 2014)
DMACC's cross country team finishes 26th at the National Junior College Athletic Association (NJCAA) Division I National Championship held in Lubbock, Texas (Nov. 2014)
The DMACC Newton Campus honors Central Iowa veterans by hosting a Veterans History Project in which 16 veterans were interviewed about their wartime experiences and the interviews were transcribed by members of the Iowa Court Reporters Association (Nov. 2015)
Sister Helen Prejean, author of the book, "Dead Man Walking," speaks on the Ankeny and Boone Campuses as part of DMACC's "One Book, One College, One Community" project (Nov. 2014)
The DMACC Volleyball team clinches a share of the Iowa Community College Athletic Association (ICCAC) regular-season championship (Oct. 2014)
DMACC and top IT employers team up to address the shortage of Information Technology workers in Central Iowa. (Oct. 2014)
DMACC Chef Robert Anderson is awarded the Iowa Restaurant Association's Lifetime Achievement Award. (Sept. 2014)
DMACC President Rob Denson and Yamanashi Prefectural University Executive Director Yoichi Odagiri sign a partnership agreement between DMACC and the Yamanashi Prefectural University in Kofu, Japan (Sept. 2014)
DMACC receives a $200,000 grant from the Great Lakes Higher Education Guaranty Corporation to develop an early alert system to help in identifying students who may need additional academic support services. (July 2014)
One hundred gold medals, 171 silver medals and 132 bronze medals were awarded at the 20134 Mid-American Wine Competition held on the DMACC Ankeny Campus. (July 2014)
Seven of the DMACC athletic programs earn academic honors from the National Junior College Athletic Association (NJCAA). DMACC's women's basketball, volleyball, softball, baseball, women's golf, men's golf and men's basketball were NJCAA Academic Student-Athlete Award winners based on their academic achievements during the 2013-14 academic year. All seven teams boasted grade point averages of 3.00 or higher. (June 2014)
A record $209,000 was raised at the Seventh Annual DMACC CEO Golf Invitational held at Talons of Tuscany in Ankeny. (June 2014)
Four former DMACC baseball players are drafted in the recent Major League Baseball Draft. Paul Volker was chosen by the Detroit Tigers in the 10th round, Alec Crawford was taken by the Colorado Rockies in the 25th round, Blake Schmit went to the Minnesota Twins in the 26th round and Edwin Medina was selected by the Houston Astros in the 33rd round. (June 2014)
The DMACC Board of Trustees unanimously approves Felix Gallagher to fill the unexpired term of Jeff Hall. (June 2014)
The National Fastpitch Coaches Association (NFCA) has named Marisa Graslewicz of Omaha a First-Team All-American and sophomore Katlin Briley of Creston to the second All-American team. (June 2014.)
DMACC sophomore baseball player Roman Collins of Maple Grove, Minnesota is named the National Junior College Athletic Association (NJCAA) 2014 American Baseball Association (ABCA)/Rawlings NJCAA Division II Player of the Year (June 2014)
The National Junior College Athletic Association (NJCAA)names DMACC sophomore Roman Collins of Maple Grove, Minnesota too the NJ CAA Division II All-American First-Team (June 2014)
All 13 members of the DMACC Women's Basketball team are honored for their academic achievements during the 2013-14 school year. Freshman Chelsea Anderson of Gowrie, sophomore Alex Bunting of Indianola, freshman Katie Clark of Casey, sophomore Breanna Hall of Riverside, freshman Chansea Nelson of Exira, sophomore Kate Ray of New Sharon, freshman Danielle Rohrbach of Tiffin, Ohio, freshman Tiana Thompson of Tama, sophomore Taryn Wicks of Jewell and sophomore Hannah Binder of Paton are named to the first team. Sophomore Rachael Enabnit of Central City, sophomore Jalissa Felici of Bellevue, Nebraska and sophomore Carlee Schuhmacher of Watertown, Wisconsin are named to the second team.
DMACC golfer Hunter Van Veen of Monroe ties for 45th place in the National Junior College Athletic Association (NJCAA) Division II National Tournament at Swan Lake Resort in Plymouth, Indiana
Eight DMACC baseball players earn post=season honors. Sophomore Roman Collins of Maple Grove, Minnesota is named to the National Junior College Athletic Association (NJCAA) Region XI First Team and to the NJCAA North Plains All-District First Team. Sophomores Patrick Fiala of Sioux Falls, South Dakota, Shea Molitor of Plymouth, Minnesota and Tyler Wolfe of Maple Plain, Minnesota and freshmen Ben Allen of Alexandria, Minnesota and Anthony Mrosla of Coon Rapids, Minnesota are named to the NJCAA Region XI Second Team and sophomore Blake Molitor of Plymouth, Minnesota and freshman Chris Myjak of Itasa, Illinois receive NJCAA Region XI Honorable Mention recognition (May 2014)
The National Junior College Athletic Association (NJCAA) names DMACC sophomore Katlin Briley of Creston a second-team All-American in softball (May 2014)
Construction begins on a new softball diamond on the DMACC Boone Campus. (May 2014)
Ten members of the DMACC softball team earn National Junior College Athletic Association (NJCAA) Region XI All-Region honors. Sophomores Katlin Briley of Creston, Aly Netty of Waterloo, Amanda Widener4 of Boone and freshman Marisa Graslewicz of Omaha are named to the Region XI First Team; sophomores Riley Fisher of Des Moines, Kaylee Buch of Clarinda, Allie Fitzgerald of Des Moines and freshman Hannah Swafford of Welston, Oklahoma and Jamie Reynolds of Des Moines are named to the second team and freshman Jessica Bastian of Des Moines earns honorable mention recognition. Briley is also named Region XI Defensive Player of the Year and the Defensive Player of the Tournament at the NJCAA II Softball National Championship (May 2014)
DMACC's softball team finishes in third place in the National Junior College Athletic Association (NJCAA) Division II Softball National Championship held in Clinton, Mississippi and finished the season with a 47-12 record, which is the most wins ever in a single season (May 2014)
DMACC's Women's Golf Team finishes in 12th place in the National Junior College Athletic Association (NJCAA) Women's National Championship at Daytona Beach, Florida (May 2014)
DMACC's baseball team advances to the National Junior College Athletic Association (NJCAA) Region XI Baseball Tournament (May 2014)
DMACC Urban Campus History Professor Matt Walsh receives the George Mills/Louise Noun Award from the State Historical Society of Iowa Board for his historical writing "Iowa SHARES and the Cambodian Refugees (May 2014)
The Des Moines Fire Department selects DMACC to provide advanced paramedic training to all new Des Moines firefighters. (May 2014)
DMACC's women's golf team advances to the National Junior College Athletic Association (NJCAA) 2014 Women's Golf National Championship in Daytona Beach, Florida (May 2014)
DMACC's baseball team clinches its seventh consecutive Iowa Community College Athletic Association (ICCAC) regular season championship (May 2014)
DMACC's softball team wins its second consecutive National Junior College Athletic Association (NJCAA) Region XI Championship and advances to the National Championship (May 2014)
Tim Morrison, James Ballantyne, Zachary Stier, Dr. Sandra Mc Gee, John McCannon, Amir Busnov and Dr. Angela Lamson and Richard Nabholz receive DMACC Alumni Association Awards. (April 2014)
•A 9,000 square foot expansion to the DMACC Career Academy Hunziker Center in Ames in completed (April 2014)
DMACC sophomore Carlee Schuhmacher of Watertown, Wisconsin is named a National Junior College Athletic Association (NJCAA) Division II First-Team All American for the second consecutive year (April 2014)
DMACC sophomore Brandon Nazione of Howell, Michigan is named a National Junior College Athletic Association (NJCAA) Division II Second-Team All American (April 2014)
Dr. Joel Lundstrom is named Provost at the DMACC Carroll Campus. (March 2014)
Men's basketball players Brandon Nazione of Howell, Michigan is named to the National Junior College Athletic Association (NJCAA) Region XI All-Region First-Team and Region XI All-Tournament Team; Derek Williams of Milwaukee, Wis. earns all-region first-team and is named Region XI Tournament Most Valuable Player. LeTrell Visor of Aurora, Ill. Earns all-region second team honors and is named to the Region XI All-Tournament First Team, Jamar Hurdle of Milwaukee is named to the Region XI Second Team and Jon Fuqua of Maywood, Ill. receives Region XI Honorable Mention
Twelve DMACC students are named to the 2014 All-Iowa Academic Team. They include: Loren Church of Chariton, Alyssa Bedford of Urbandale, Connie Welcher of Des Moines, Cainon Leeds of Stratford, Kyle Hamilton of Altoona, Tiffany Allison of Des Moines, Shawna Babcock of Des Moines, Jon Galletley of Lake City, Curtis Kling of Des Moines, Shannon Pierson of Boone, Traci Rosenau of Carroll and Lauren Roush of Kellogg. In addition, Allison is named one of the Coca-Cola Gold Scholars. (March 2014)
The Women's Basketball Coaches Association (WBCA) names sophomore Carlee Schuhmacher a junior college All-American for the second consecutive season. (March 2014)
DMACC men's basketball team wins the first round of the National Junior College Athletic Association (NJCAA) Division II National Championship with a 75-64 win over St. Louis Community College, but loses to Essex County College 68-66 in the quarterfinals and then 68-53 to Wayne County Community College to close the season with a 30-7 record. (March 2014)
The DMACC Board of Directors approved construction of a $380,000 new softball field on the Boone Campus set to be ready for the spring 2015 season. (March 2014)
Sophomores Carlee Schuhmacher of Watertown, Wis. and Taryn Wicks o Jewell earn first-team honors to the National Junior College Athletic Association's (NJCAA's) Region XI All-Region Basketball Team. Sophomore Jalissa Felici of Bellevue, Neb. is named to the second-team and sophomore Alexis Bunting of Indianola garners third-team honors. (March 2014)
A court reporting program is added to the DMACC Newton Campus for the fall of 2014. (March 2014)
DMACC's Men's Basketball team avenged two regular season loses to Iowa Lakes Community College with a 71-69 win over the Lakes in the National Junior College Athletic Association (NJCAA) Region XI Championship Game, and by doing so, advances to the NJCAA Division II National Championship for the first time since 2007. (March 2014)
DMACC's Women's Basketball Team defeats Marshalltown Community College 72-65 in the first round of the National Junior College Athletic Association's (NJCAA's) Region XI Basketball Tournament, but loses to North Iowa Area Community College 93-86 in the semifinals. (March 2014)
Captain Eugene Cernan, who became the last person to leave his foot prints on the surface of the moon, speaks at the DMACC Celebrate! Innovation Week, held at the DMACC West Campus. Other speakers include Grant Imahara from the Discovery Channel's Mythbusters show, Multimedia Artist Phil Hansen, Actors David Berman and Jon Wellner of CSI-Las Vegas, T.V. Producer and Host of Smash Lab Deanne Bell and Dr. Salma Ghanem, Dean of the College of Communication and Fine Art at Central Michigan University. (March 2014)
DMACC Men's Basketball Team won the Iowa Community College Athletic Conference (ICCAC) championship with 90-62 win. (March 2014)
DMACC Women's Basketball Coach Steve Krafcisin records his 20th career victory as a DMACC Coach when the Bears defeated Iowa Lakes Community College 66-41. (Feb. 2014)
DMACC journalism students won 10 awards at the Iowa College Media Association annual conference. Cainon Leeds of Stratford won First Place in Opinion Writing, Third Place in Best Opinion/Editorial Section and Third Place for Best Profile News Story. Josh Stevens of Sioux City won Second Place for Best Investigative News Story and Honorable Mention for Best News Story. Alex Payne of Altoona received First Place in General Excellence, Second Place for Best Page One and First Place in Best Opinion/Editorial Section along with Martina Gutierrez of Ames, Alexandria Roth of Wall Lake, Ann Voight of Des Moines, Mark Rothweiler of Des Moines and Mike Kelsey of Des Moines. Nevin Cornwell of Adel won First Place in Best Coverage of First Amendment Issues along with Anna Duran of Des Moines and Ryan C. Meier of Des Moines. Duran and Meier also won Third Place for Best Inside Page Design. (Feb. 2013)
DMACC Boone Campus students Carl DeVries of Ames, James Peterson of Boone and Andrew Meyer of Ames are selected to participate in the National Aeronautics and Space Administration (NASA) Scholars program. (Feb. 2014)
The annual DMACC CEO Golf Invitational raises a record $263,459 to be used for student scholarships. More than $1.2 million has been raised by the DMACC Foundation through the golf outing in the past eight years. (June 2015)
Former DMACC baseball standout Roman Collins is drafted in the fifth round of the Major League Baseball draft by the Kansas City Royals (June 2015)
The National Junior College Athletic Association (NJCAA) names DMACC baseball player Anthony Mrosala of Coon Rapids, Minn. a Third-Team All-American in division II baseball (June 2015)
DMACC softball players April Brown of Pleasant Hill, Brittany Roby of Knoxville and Syndey Weldon of Albia are named to the National Fastpitch Coaches Association (NFCA) National Junior College Athletic Association (NJCAA) Division II All-American First Team while Jamie Reynolds of Des Moines is named to the Second Team (June 2015)
Dr. Hollie Lander is named the new Executive Director of Program Development at the DMACC Southridge Center (June 2015)
DMACC softball player Brittany Roby of Knoxville has earned the Division II Softball Marucci Elite Hitting Award from the National Junior College Athletic Association (NJCAA) (May 2015)
DMACC men's golfer Hunter Van Veen of Monroe ties for 31st place in the nation in the National Junior College Athletic Association (NJCAA) Division II National Championship in Scottsboro, Ala. (May 2015)
DMACC softball players Brittany Roby of Knoxville is named a First-Team All American as an outfielder and Sydney Weldon of Albia is named a First-Team All-American as a designed player (May 2015)
The DMACC softball team finishes in fourth place in the nation in the National Junior College Athletic Association (NJCAA) Division II National Championship in Clinton, Miss. (May 2015)
DMACC's women's golf team finishes 13 in the nation at the National Junior College Athletic Association (NJCAA) Women's National Championship in Mesa, Ariz. (May 2015)
DMACC and Mercy College of Health Sciences sign an articulation agreement offering a seamless transfer of DMACC health science graduates (May 2015)
DMACC baseball players Anthony Mrosola of Coon Rapids, Minn. and Chris Kelly of Boone re named to the National Junior College Athletic Association (NJCAA) All-Region First Team, Jacob Adams of Brandon, S.D. earns second-team honors and Brad Mathiowetz of Rochester, Minn. and Cody Harmon of Mason City earn honorable mention recognition (May 2015)
The DMACC Board of Directors approves contractors for the new student and recreation center complex to be built on the Ankeny Campus (May 2015)
DMACC men's golfer Hunter Van Veen of Monroe is named to the Iowa Community College Athletic Conference (ICCAC) Division II All-Conference First Team while Evan Johnson of Story City, Devon Woody of Monroe, Brandon Risetter of Jewell and Jake Kendig of Ankeny receive second-team recognition (May 2015)
The DMACC softball team advances to the National Junior College Athletic Association (NJCAA) Region XI-B softball tournament (April 2015)
Four DMACC students are named Iowa 2015 Coca-Cola Scholars. Carroll Campus student Timothy Howard of Carroll and Boone Campus student Matthew Vest of Madrid are named to the Coca-Cola Community College Academic Team Gold Scholar. Boone Campus student Meredith Lehmann of Ames has been named a Silver Scholar and Newton Campus student Michael Wells of Newton has been named a Bronze Scholar (April 2015)
DMACC Human Services Chair Ilima Young Dunn is named the 2015 National Association of Social Workers (NASW) Iowa Chapter Social Worker of the Year (April 2015)
DMACC men's basketball player Arias Austin is named to the second team All-American list by the National Junior College Athletic Association (April 2015)
The DMACC Board of Directors approves Baxter Construction to oversee the renovation and remodeling of the Iowa Culinary Institute™ (April 2015)
DMACC and Buena Vista University enter into a transfer agreement whereby a DMACC Carroll Campus student can earn a four-year Human Services degree entirely at the Carroll Campus (April 2015)
DMACC Softball Coach bob Ligouri wins his 800th game in 20 years of coaching high school and community college softball (April 2015)
DMACC Boone Campus students Daniel Bouk of Boone, Myra James of Ames, Theodore Mathews III of Des Moines, Guy Morgan of Ames and Mike Techentin of Ankeny are selected as National Aeronautics and Space Administration (NASA) College Scholars (March 2015)
DMACC's men's basketball team finishes fourth in the National Junior College Athletic Association (NJCAA) Division II National Championship in Danville, Ill (March 2015)
DMACC hosts 13th annual Celebration of Literary Arts at all six campuses (March 2015)
DMACC men's basketball players Jon Fuqua of Maywood, Ill., Aarias Austin of Gurnee, Ill., Jamar Hurdle of Milwaukee and Paris Collins of San Antonio, Texas are named to the National Junior College Athletic Association (NJCAA) Region XI All-Region First Team and Trey Sampson of Cedar Rapids receives second team honors. Fuqua, Austin and Collins are also named to the NJCAA Region XI All-Region Team (March 2015)
DMACC women's basketball players London Vais of Adair is named to the National Junior College Athletic Association (NJCAA) Region XI first team; Kiana Peterson of Madrid earns second-team honors, Cassie Geopfert of Sioux City and Latasha Harmon receive honorable mention (March 2015)
DMACC's men's basketball team wins the National Junior College Athletic Association (NJCAA) Region XI championship and advances to the NJCAA Division II Men's Basketball Championship (March 2015)
The DMACC West Campus hosts Celebrate Innovation Week 6 featuring speakers such as actor, director and educator LeVar Burton; adventurer and explorer Dr. Niall McCann; astrophysicist Dr. Sara Seager and oceanographer Dr. David Gallo (March 2015)
DMACC Emeritus Vice President Dr. Mary Chapman receives the 2015 Alpha Award of Merit at the Black and Gold Scholarship Ball (March 2015)
Dennis Presnall, Executive Director and Secretary-Treasurer of the Iowa Farm Bureau Federation and Senior Vice President-Secretary of Farm Bureau Life Insurance Company and Farm Bureau Mutual Insurance Company, is appointed to the DMACC Board of Directors (Feb 2015)
Vice President Joe Biden speaks at a roundtable he hosted at the DMACC Ankeny Campus (Feb. 2015)
Joe DeHart is named the new Provost of the DMACC Newton Campus (Dec. 2016)
DMACC and Iowa Wesleyan University sign an articulation agreement resulting in the first ever RN-BSN (Bachelor of Science in Nursing) 3+1 completion program in the state (Nov. 2016)
Engineered Plastic Components, Inc. President and Founder Reza Kargarzadeh donates seven former Maytag buildings incorporating 472,000 square feet of office and meeting space and worth $9 million to become part of the DMACC Newton Campus (Oct. 2016)
The Ankeny Campus Veteran's Center is officially opened with a dedication ceremony (Oct. 2016)
DMACC Spanish Professor Stacy Amling is named the 2016 Educator of the Year at the Post-Secondary Level from the Iowa World Language Association (IWLA) (Oct. 2016)
Fareway Stores President and Chief Operating Officer Frederick Greiner is elected to the DMACC Board of Directors. Earlier, he was appointed to fill the opening created when long-time board member Dr. Wayne Rouse passed away (June 2106)
The newly renovated Ankeny Campus Student Center reopens (Sept. 2016)
The DMACC Foundation announces that Kelsi Ziemann Artistry (KZA) and BigDeal Car Care are winners of the $10,000 Entrepreneurship Contest (Sept. 2016)
With donations from Prairie Meadows and UnityPoint Des Moines, DMACC purchases a fire truck and an ambulance so students can get hands-on training working with those vehicles (Sept. 2016)
Dr. Drew Nelson is hired as the new provost of the Boone Campus, replacing Tom Lee who retired (Aug. 2016)
Value Colleges.com ranks DMACC 10th of the 1,717 community colleges in the nation on its annual list of the Best Value Community Colleges in the nation (July 2016)
DMACC's Child Development Center earns National Association for the Education of Young Children (NAEYC) Early Childhood Program accreditation (July 2016)
A total of 105 gold medals, 231 silver medals and 207 bronze medals are awarded at the tenth annual Mid-American Wine Competition held on the DMACC Ankeny Campus (July 2016)
DMACC head Softball Coach Bob Ligouri is inducted into the Iowa Girls Coaching Association's Hall of Fame for softball (July 2016)
A plaque is unveiling at 315 Walnut St. in Ankeny, the exact location where the first DMACC offices were located (May 2016)
DMACC students Alexis Slade of Waukee and Dylan Nikkel of Pella are named to the 2016 All-USA Community College Academic Team (May 2016)
Dennis and Susan Albaugh pledge Kentucky Derby winnings to DMACC if their horse, Brody's Cause, wins the 142nd running of the Kentucky Derby (May 2016)
The $5.5 million dollar renovation to the Iowa Culinary Institute (ICI) building is completed (April 2016)
Renowned bass-baritone Simon Estes to become a visiting professor of music at DMACC in the fall of 2016 (April 2016)
B.J. McGinn is named Athletics Director to replace retiring Orv Salmon (April 2016)
DMACC announces a new statewide scholarship called the Mark Pearson FFA Leadership Scholarship at the Governor's Office. A full tuition grant will be given to all FFA Iowa Chapter Presidents who plan to attend DMACC. The award is named after long time WHO Farm Broadcaster Mark Pearson (April 2016)
DMACC awards its first Valedictorian Scholarship to Aubrey Schmitt of West Burlington (April 2016)
Chef Robert Anderson receives the L'Ordre des Palms Académiques (The French Academic Palms) from the Deputy Consul for the French Consultant in Chicago during the opening of the newly remodeled ICI® building (April 2016)
DMACC President Denson recognized as an MVP for Iowa STEM by the Iowa Governor's STEM Advisory Council (April 2016)
DMACC celebrates its 50th anniversary with events on all campuses, including an April 9 event at the Boone Campus (April 2016)
DMACC Women's Head Basketball Coach Steve Krafcisin is inducted into the Illinois Basketball Coaches Association Hall of Fame (April 2016)
DMACC Urban Campus Chemistry Professor Dr. Harold Goldston receives the Excellence in Motivating Students in STEM Award (March 2016)
DMACC students Gabrielle Woods of Boone is named a 2016 Coca-Cola Gold Scholar. Mohamad Diallo of Ames is named a Bronze Scholar and Trung Nguyen of Des Moines is named a Coca-Cola Bronze Scholar (March 2016)
DMACC's West Campus turns 15 years old (March 2016)
Chuck and Marilyn Farr of Des Moines donate $125,000 to the DMACC Foundation (Jan. 2016)
A Christmas concert at the Des Moines Civic Center by bass baritone Simon Estes and friends is attended by more than 1,800 people with the proceeds going to the DMACC Foundation to be used for scholarships for DMACC Music students. (Dec. 2017)
T.V. Chef and entrepreneur Penny Davidi comes to the DMACC Ankeny Campus Iowa Culinary Institute™ as part of her national tour called the Chef Penny Cooking Challenge.
DMACC and the University of Iowa enter into a new agreement allowing DMACC nursing graduates to seamlessly finish their Bachelor of Nursing Science (BSN) degree from the U of I in one year in an agreement called "RN to BSN 3+1" (Oct. 2017)
DMACC and the Ruan Foundation dedicate a new, state-of-the-art driving simulator at DMACC's Transportation Institute (Sept 2017)
DMACC and Iowa State University enter into a partnership to establish the Iowa Cyber Hub™ with the goal of increasing the number of cyber security workers in Iowa (July 2017)
The DMACC CEO Golf Invitational raises a record $450,000 to be used for student scholarships (June 2017)
DMACC student Austin Gehling of Carroll earns the highest score ever achieved in the business simulation, "Mikesbikes" used across the United States and several other countries (June 2017)
DMACC and Iowa State University sign a new Design Transfer Agreement (May 2017)
Dr. Anne Howsare Boyens is named Urban Campus Provost replacing Dr. Laura Douglas who accepted the presidency of Bristol Community College (May 2017)
Nearly 100 students from five DMACC campuses and five programs participate in a ten-vehicle crash simulation on the Ankeny Campus. (April 2017)
The Transportation Security Administration (TSA) Expands its Partnership with DMACC. TSA employees in 35 states and at 285 airports across the country are now eligible to participate in the program (April 2017)
Rashida Anderson-Abdullah of Ankeny is awarded a 2017 Jack Kent Cooke Foundation Undergraduate Transfer Scholarship worth up to $320,000 (April 2017)
The DMACC Foundation awards $1 million dollars in scholarships to DMACC students during the 2016-17 school year. More than 1,600 students at DMACC's campuses and centers benefited from this record setting achievement (April 2017)
Representatives from DMACC and the Republic of Kosovo sign a new collaborative agreement that includes students from Kosovo attending DMACC. President Denson plays a visit to Kosovo to share DMACC's best practices (March 2017)
ciWeek8 kicks off with Astronaut Ken Mattingly, Astronaut Al Worden, 17-time Academy Award nominated sound engineer Greg Russell, Beatbox World Champion Kaila Mullady, New York Times best-selling author and "zombie expert" Max Brooks, world-renowned rock climber Kevin Jorgeson and former University of Iowa Wrestling Coach and Gold Medalist Dan Gable at the DMACC West Campus (March 2017)
DMACC is presented with the Employer Support of the Guard and Reserves (ESGR) Patriotic Employer Award (Feb. 2017)
DMACC hosts an Open House for the New Student Center and Trail Point Aquatics and Wellness Center. The new facilities transform the DMACC Ankeny Campus. (Feb. 2017)
DMACC Urban Campus to Undergo a $24-Million Expansion to include a New Student Life and STEM Center.
DMACC to Build New Criminal Justice Training Facility
Carl and Penny Moyer Donate $1 Million to DMACC
Deputy U.S. Education Secretary Visits DMACC
DMACC and Microsoft Announce New Partnership for the West Des Moines Campus
DMACC Celebrates the 25th Anniversary of the DMACC Newton Campus
DMACC Becomes First College to Kick Off Facebook Course
Iowa Business Owners Encouraged to Apply to the Goldman Sachs 10,000 Small Business Program
New Sports Management 2 + 2 agreement between the University of Iowa and DMACC announced at Iowa Wolves basketball game.
DMACC Expands Its Work-Based Learning Programs Across Central Iowa.
Mars experts/explorers part of this year's Celebrate! Innovation Week lineup.
DMACC Executive Chef Robert Anderson was recognized in a Special Ceremony by the Iowa House of Representatives.
The DMACC Softball Team Finishes Third in the National Tournament after winning its first 46 games of the season and being ranked number one in the nation.
DMACC Receives National Military Award
DMACC & Purdue University Global Join Forces to Help Nursing, Health Sciences Students Earn Degrees More Quickly.
100% of DMACC's Surgical Technology students pass the national Certified Surgical Technologist exam.
BVU and DMACC's Newton and Carroll Campuses Combine Efforts to Make A Bachelor Degree More Accessible for Rural Iowans
New DMACC Program to Help Kosovo Women
UNI AND DMACC PARTNER TO OFFER BACHELOR'S DEGREE PROGRAM IN DES MOINES.
The new partnership will provide DMACC students with a streamlined pathway to a four-year degree—all from Des Moines.
DMACC ANNOUNCES CREATION OF THE SIMON ESTES SCHOOL OF FINE ARTS.
DMACC's goal is to become a destination college for Fine Arts education.
GROUNDBREAKING CEREMONY FOR NEW DMACC URBAN CAMPUS STUDENT LIFE & STEM CENTER BUILDING.
60,000-square-foot building to be completed in Fall of 2020.
DMACC CELEBRATES GROUNDBREAKING FOR NEW AUTOMOTIVE TECHNOLOGY CENTER ON ANKENY CAMPUS.
Karl Chevrolet Automotive Technology Center at DMACC set to open in Fall 2020.
DMACC NEWTON CAMPUS ANNOUNCES ICI'S® BAKING AND PASTRY ARTS.
Announcement takes place during the DMACC Newton Campus' Annual Holiday Celebration.
DMACC BOONE CAMPUS ANNOUNCES PLANS FOR A NEW STUDENT ACTIVITIES CENTER.
Fundraising begins to build a new up-to-date facility for study and recreation.
FIRST IOWA-BASED CLASS OF GOLDMAN SACHS 10,000 SMALL BUSINESSES LAUNCHED AT DMACC.
Thirty-seven Iowa small business owners from 20 counties participate in nationally recognized program to improve small business successes.
DMACC AND DART HOST "STUDENTS RIDE FREE" BUS TOUR TO HIGHLIGHT NEW AGREEMENT.
DMACC and DART officials to visit all DMACC locations to promote new student benefit—free rides for DMACC students.
ALGAE GROWN IN DMACC BIOTECHNOLOGY LAB TO BE LAUNCHED INTO SPACE.
DMACC Biology Professor Julie González to deliver algae to NASA for April 30 launch.
CARROLL CAMPUS ANNOUNCES $3 MILLION BUILDING EXPANSION.
Project will include new welding and applied engineering labs, classrooms and community gathering area.
EVELYN K. DAVIS CENTER FOR WORKING FAMILIES CELEBRATES GRAND REOPENING.
New location is next door to DMACC Urban Campus.
FORBES RANKS DMACC AMONG BEST PLACES IN IOWA TO WORK.
DMACC is one of three higher education institutions in Iowa included in rankings.
DMACC's ONLINE BUSINESS DEGREE RANKED ONE OF THE NATION'S BEST.
Annual ranking by Intelligent.com includes DMACC in the top ten list for the first time.
KOSOVO PRESIDENT AND STATE DIGNITARIES COMING TO DMACC.
The Millennium Foundation Kosovo provided a grant of up to $1 million for 28 Kosovo students to enroll at DMACC and train for careers in Kosovo's expanding energy industry.
'LAST-DOLLAR SCHOLARSHIPS NOW AVAILABLE AT DMACC.
New state program fills the gap in financial aid for high-demand programs.
DMACC NURSING PROGRAM REPORTS RECORD ENROLLMENT.
College's Nursing program enrollment up 25 percent in past five years.
DMACC PRESENTS CONVERSATIONS WITH PRESIDENTIAL CANDIDATES SERIES.
DMACC CELEBRATES "SMALL STEPS TO GIANT LEAPS" AT CiWEEK 10.
The West Des Moines Campus dedicates its annual ciWeek to the 50th anniversary of the Apollo 11 moon landing by hosting a panel of American astronauts.
DMACC BOARD RECOGNIZES COACHES FOR THEIR WINNING RECORDS.
Head Volleyball Coach Patty Harrison wins her 700th match and Women's Head Basketball Coach Steve Krafcisin wins 300th game in 2019.