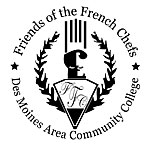 The ICI (Iowa Culinary Institute) Fleur de Lys Gala is a special evening at DMACC—it includes a gourmet French buffet dinner prepared by the ICI. Accompanying champagne and wines are served throughout the meal. Although food and wine are important elements of the gala, the real focus is on the auction—both silent and live—which includes some wonderful items, such as restaurant packages, wine, artwork, jewelry, home furnishings, kitchenware, specialty gifts and other interesting goods and services provided by local area businesses.
All proceeds from this gourmet event go to support the ICI's annual French Chef Exchange. Each January since 1986, two chefs from L'Association des Cuisiniers de la Loire (the Chefs' Association of the Loire from the region of St-Etienne, Des Moines' French Sister City) have come to DMACC as guest lecturers for the Iowa Culinary Institute. For two weeks, the chefs demonstrate techniques of classical French cuisine to over 200 culinary students. In May, selected graduates of the DMACC Iowa Culinary Institute have an opportunity to visit France. Eight students are awarded full scholarships to cover the cost of their trip. These scholarships, named after the late Marge Anderson (Chef Anderson's mother), are funded, in part, by proceeds from the Fleur de Lys Gala. After spending twelve days traveling in France to learn about French culture, history, and cuisine, the students go to St-Etienne to serve individual culinary internships. The students work in restaurants of chefs from L'Association des Cuisiniers de la Loire for approximately two weeks. Many former ICI students and graduates who have had this invaluable educational experience are now working at fine dining establishments throughout Central Iowa, using the skills they learned during their internships in France.
As the Fleur de Lys Gala is the main fundraiser for the French Chef Exchange, $100 of every $150 ticket is a tax-deductible contribution to that program. For reservations and information please contact Kristi Miller at 515-964-6477​ or at ici@dmacc.edu.