Boone Campus Theatre
Nov. 4th & 5th: DMACC Boone Campus Theatre Presents 'The Book of Murder'
The Book of Murder by Robert Cowen was originally broadcast in 1974 on ABC television. Henry Aythecliff, a much married and once successful writer, is now heavily in debt. He summons his three ex-wives to his mansion to blackmail a sizable amount of money from them. He secretly meets with each of them. When he is discovered murdered, the clues indicate each of his wives including the current one could have done it. A resourceful young detective arrives on the scene to solve the murder.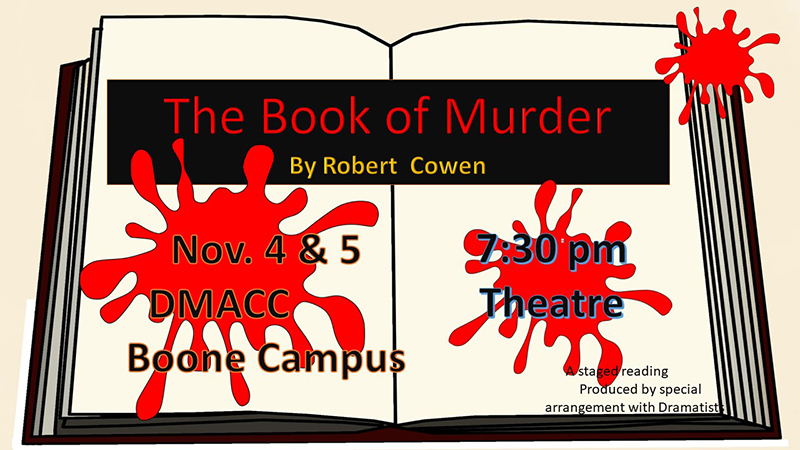 Nov. 12th & 13th: DMACC Boone Campus Theatre Presents 'A Night of One Act Plays'
The DMACC Boone Campus Theatre Program will perform a total of six one-act plays during a "Night of One Act Plays" at 7:30 p.m. on both Fri., Nov. 12th and Sat., Nov. 13th. All of the plays are comedies and will be directed by Kay Mueller.
Tickets cost $5 and can be purchased at the door. DMACC students can attend for free with their student ID.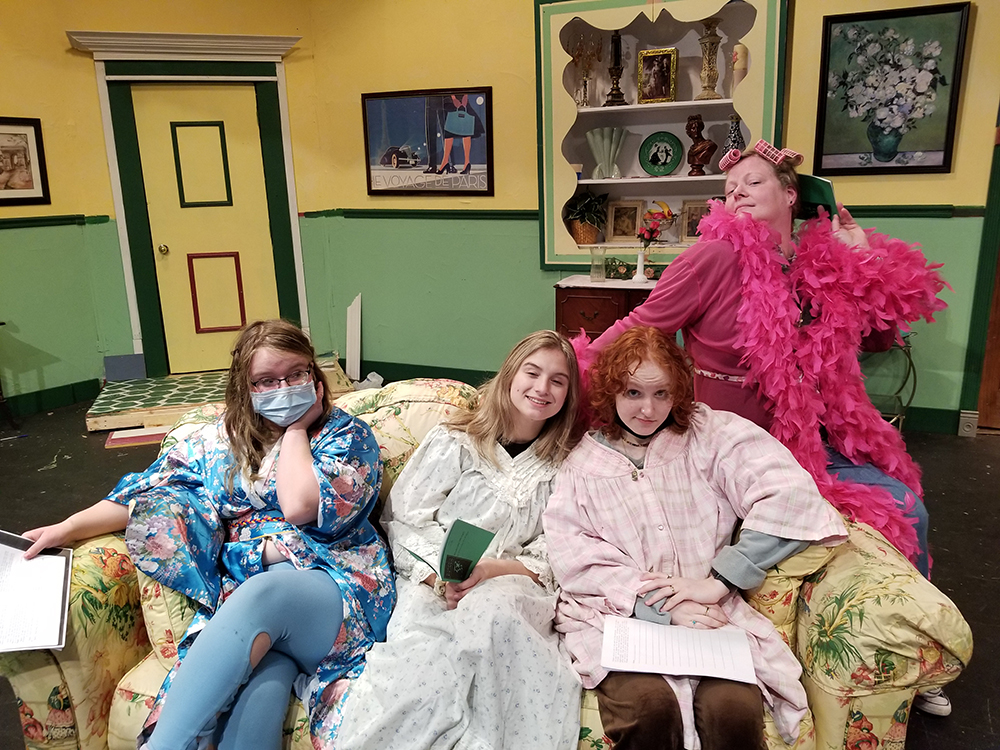 The comedic one-act plays will include:
"The Last of Sherlock Holmes" by Tim Kelly: The play begins with Holmes capturing his greatest enemy, Professor Moriarty. Watson brings the new that Moriarty has escaped once again. Now it is up to Holmes to prove through the new technology of fingerprinting Moriarty's true identity.
"Nobody Sleeps" by Guernsey Le Pelley: Sisters Daisy, Ada, and Gloria, surprise a burglar named Spike in their home giving him "helpful" suggestions on what he should steal. Then Ada suggests that Spike meet Mother because she is writing a mystery book and would like to know a good burglar. Mother is full of criticisms letting him know he is not a good burglar.
"On the Porch One Crisp Spring Morning" by Alex Dremann: Mother and daughter find out they are both spies assigned to assassinate each other.
"Computer Pals" by Hindi Brooks: Two shy nerds seeking companionship on-line, get caught in their web of falsehoods about who they are and what they do.
"Time Flies" by David Ives: Two sweet young mayflies meet at a pond and discover themselves as the focus of a nature program on television. Here they discover they have a life span of only one day.
"Soap Opera" by David Ives: A washing-machine repairman falls in love with a picture-perfect washer. How can he tell his girlfriend, Mabel? Is the washer two-timing him with a dryer? Stay tuned for this soap opera.
The cast includes Jay Cue of Madrid, Mason Aucker of Ogden, Rachel Bennett of Ames, Lily Hummer of Ames, Carly Neel of Manly, Jenna Fagan of Madrid, Ashley Swangle of Des Moines, Aubrey Glodt of Des Moines, and Christine Whitney of Granger.
For more information, contact Drama Department Professor Kay Mueller at 515-433-5094 or kemueller@dmacc.edu.