ACCUPLACER® Writing Placement
Welcome to DMACC's Choosing Composition Success site, created by the DMACC Writing Placement Task Force and English Department. It describes how students place into their writing classes and offers options for students scoring at certain levels.
Choosing success in college starts with taking writing courses that fit your current writing skills. Most colleges and universities in the United States have a first-year writing course required for a degree. At DMACC, that class is Composition I (ENG 105). However, not everyone is ready to take ENG 105, so the first step is to see into which class you place.
Part-time and full-time students who need to take a composition class need to submit ACT, COMPASS Reading and Writing Skills, ACCUPLACER Classic Reading and Sentence, or ACCUPLACER Next Gen Reading and Writing scores to the Admissions Office as part of the admissions requirements. If you have taken these exams, bring the results to your advisor to help determine your writing placement. If you have not taken any of these tests, then you should schedule ACCUPLACER Next Gen Reading and Writing exams with the Testing Center and talk about the results with an advisor to find the best writing path for you. Guest students and current DMACC students, including Post-Secondary Enrollment Options (PSEO) and Career Advantage students, who have already passed a prerequisite writing course prior to enrolling in Fall 2018 will be exempt. Academic transcripts will be required to verify transfer credit/grade awarded.
Writing Placement Scores
ACT
COMPASS Scores
ACCUPLACER Classic Scores
ACCUPLACER Next Gen Scores
Course Recommendations
01-13
19-36
Sentence 20-65
Writing 213-243
ENG 060: College Prep Writing I
14-18
Writing 38-69
Sentence 66-81
Writing 244-253
ENG 061: College Prep Writing II
14-19
Writing 42-99
Sentence 68-120
Writing 245-279
COM 703: Communication Skills
16-18
Reading 48-80
&
Writing 54-69
Reading 59-72
&
Sentence 74-81

Reading 239-248

&

Writing 249-253

ENG145: Strategies for Composition with ENG105: Composition I
19-36
Writing 70-99
Sentence 82-120
Writing 254-279
College Ready (ENG 105: Composition I, ADM 157: Business English)
(See the full set of test and scores)
Examples
A student who has an ACT composite score of 20 places into ENG 105.
Another student who does not have ACT scores but took COMPASS a couple of years ago and scored a 45 on the Writing test places in ENG 061.
A student who did not bring scores but takes ACCUPLACER Classic and scores a 68 in Sentence Skills is placed in ENG 061.
A student with an ACCUPLACER Next Gen Reading score in the 239-248 range but a 249 or higher Writing score should still consider taking ENG 145 and ENG 105. Reading skills are part of the ALP class.
Writing Course Options
Look at the ACT range of 16-18. What do you see? You see that students who score in the middle through upper ranges of the ACT or who score in certain ranges on the Reading and Writing placement exams for COMPASS, ACCUPLACER Classic and ACCUPLACER Next Gen have different options.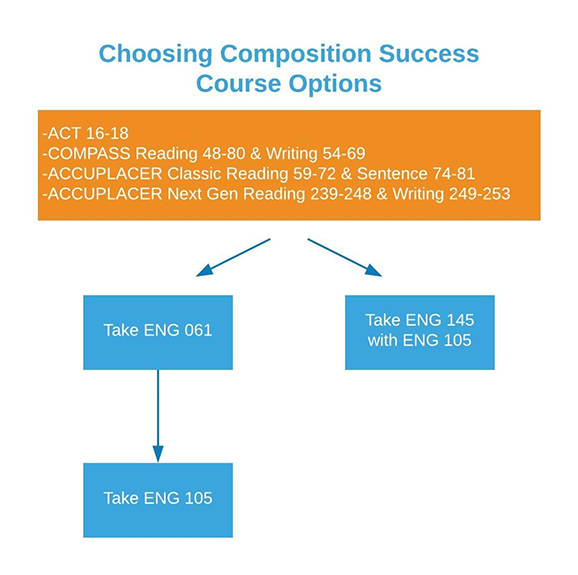 Because reading and writing skills are so important to composition, we look at both scores to qualify students for an option of courses. Students who score 16-18 on the ACT, have a COMPASS Reading score range of 48-80 and Writing score of 54-69, or an ACCUPLACER Classic Reading score of 59-72 and Sentence score of 74-81 have two course options: 1) take ENG 061 then ENG 105 the next semester, or 2) partner ENG 145 with ENG 105.
---
What is the Difference Between the Paths?
College Preparatory Writing II (ENG 061) is a tried-and-true developmental class at DMACC, helping students meet their writing goals for more than a decade. Students receive individualized attention while practicing specific reading and writing skills in the classroom. Students who earn a passing grade can move on to ENG 105. Pass and success rates for this course are higher than the national average across DMACC's campuses.
Strategies for Composition (ENG 145) is taken with Composition I (ENG 105) and is a two credit, corequisite/accelerated learning program (ALP) model course. If your placement scores fall within the appropriate ranges, you may advance to ENG 105, but you must also enroll in ENG 145. The ENG 145 class meets immediately after ENG 105 and includes some of the same students you encounter in ENG 105. It is designed to provide a smaller class size (limited to 10-12 students) with individualized support and practice with assignments that reinforce the writing concepts addressed in ENG 105. By taking ENG 145 with ENG 105, you can move forward with writing coursework and gain two general elective credits. If you qualify for this option, you must complete both ENG 145 and ENG 105 successfully with a passing grade to continue to the next writing class, Composition II (ENG 106).
What Path Should You Take?
Deciding which path to take depends a lot on if you have the credits, desire, and money needed to take two writing classes at the same time, which is the 145/105 option, or whether you want to focus on one class at a time, which is the ENG 061 option. If you choose the 145/105 option and do not pass, then you can retake both classes or take 061 alone, waiting to take ENG 105 after you pass 061.
What Should You Do Next?
Study for the placement exams, Reading and Writing exams. Study guides and practice tests are available. You can take a practice test at home and bring your responses to the Academic Achievement Center Reading Lab or Writing Lab to review with an instructor before taking the test.

Get a good night's sleep, eat a healthy meal, and take the exams.
Based on your exam results, talk with an advisor to see which class you qualify to take, and register for that class. If you are unhappy with the exam score, you can retake the test after waiting two weeks. In that time, study and seek assistance in the Academic Achievement Center.
When you begin classes, attend every class session to help you move forward with writing.
Choosing success means talking with advisors when registering for classes and your instructors when needing help. Using DMACC's support services like Academic Achievement Centers and the Library Professionals will also help you succeed in college.
For questions regarding placement, contact an advisor.
Ankeny 515-964-6200
Boone 515-432-7209
Carroll 712-792-1755
Newton 641-791-3622
Urban 515-244-4226
West 515-633-2408
ACCUPLACER® Next-Generation Frequently Asked Questions
ACCUPLACER® is a series of tests that evaluate students' skills in Reading and Writing to help place students in DMACC courses and programs that match their skills. It is also used to determine course placement for English Language Learners (ELL).
ACCUPLACER ® uses the latest computer-adaptive technology, which means the questions you see are based on your skill level. Your response to each question determines the difficulty level of the next question.
Remember: No one passes or fails ACCUPLACER® tests, but it's important to complete the test using your best effort, so you can get an accurate measure of your academic skills and be placed in the appropriate course.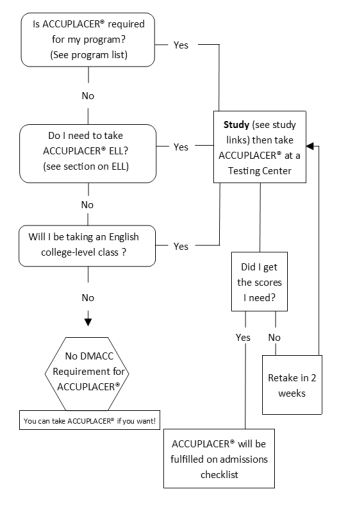 Preparing for the ACCUPLACER® Next Gen
We have resources to help you prepare for ACCUPLACER® Next Gen and ELL Assessments
Option 1: Students needing to take Next Generation ACCUPLACER®based on their application checklist, or students wanting to know where they place in college-level reading and writing to determine course selection, may find the following practice aps helpful to prepare for the assessment(s).
Option 2: DMACC Library
Click Choose Database
Click P
Scroll down and click PrepSTEP
Click Placement Test Preparation
Click Prepare for ACCUPLACER® Tests
Make sure you take the practice under Next-Generation ACCUPLACER® Practice Tests.
Option 3: Use the ACCUPLACER® Study App
Access the ACCUPLACER® app.
Create an account by entering an email address and choosing a password. The password should use multiple words and a mixture of upper and lowercase characters, numbers, and punctuation.
Click Sign Up.
Log in with the username and password
Select the test you need to practice:
ACCUPLACER®
English as a Second Language (ESL)
Select a test type, then click on either Learn As You Go or Practice Test
Read the opening instructions, then click Next
Read the next instructions, then click on Start Test Session
Read each question, select the answers, then click Submit at the end
After completing the practice test, a report shows how you scored in each area. Click on a specific area
to review questions and rationale. If you do not score well, click take test again. Click Learn as you go to
review the questions and answers as you take the sample test.
When you're ready, take the test!
Relax, ACCUPLACER® Next Gen is a well-designed test to help you assess your readiness for college-level
reading and writing courses. The following tips will help you do your best.
Get a good night's rest the night before the test. Eat a healthy breakfast and drink some water that day to nourish your body and mind.
Arrive a couple of minutes early so you can gather your thoughts and locate the Testing Center. Don't forget to bring a valid photo ID.
Ask questions if you don't understand the process of ACCUPLACER® Next Gen.
During the test, read the questions carefully.
Work to answer all the questions.
Below is a partial list of programs that require ACCUPLACER®
This list may change. Please view your Checklist to see if ACCUPLACER® is required for your program.
Biotech
CNC Operator/Programmer
Dental Assistant/Hygienist
Diemaking
Machinist Technology
Medical: Assistant/Lab Tech
Nursing (RN)/Practical Nursing
Paramedic Specialist
Phlebotomy
Surgical Tech
Tool & Die
Vet Tech
Visual Communications
How to view your Checklist
Log In to myDMACC
Click on the Student tab
Scroll down to View Admissions Applications under Banner Self-Service
ACT scores may fulfill the ACCUPLACER® requirement. Scores can be sent to admissions@dmacc.edu
Testing Centers
ACCUPLACER® is not a timed test but you should allow 1 hour for ACCUPLACER® Next Gen and 2 hours for ACCUPLACER® ELL
ACCUPLACER® ELL (English Language Learners)
How do I know if I need ACCUPLACER® ELL?

If both statements below are TRUE, then you do not need the ACCUPLACER® ELL, but you may need to take the standard ACCUPLACER®

I speak a language other than English, but I have studied English for six (6) years or more where English is the primary language of instruction.
I speak, read, and write English daily.

If one or both statements are not true, visit a DMACC Testing Center to take ACCUPLACER® ELL

What do my scores mean?

| ACCUPLACER® ELL Score | First Name |
| --- | --- |
| Less than 50 | Noncredit ELL |
| 50-80 Credit | ELL 098 & 099 |
| 82-110 Credit | ELL 108 &109 |

Can I retake the ACCUPLACER® to improve my score?


Yes, you can retake the test in 2 weeks
Before you test, review the ELL sample questions to improve your skills.
ELL Questions
If you have questions about Non-Credit ELL, contact:
Pedro Salazar-Garcia
ELL Student Services Specialist
pjssalazar@dmacc.edu
or 515-697-7762
If you have questions about Credit ELL, contact:
Saem Parry
ELL Faculty Instructor
shparry@dmacc.edu
or 515-248-723
Testing is available at multiple DMACC locations. If you require an accommodation for testing, call the Disabilities Services Coordinator at 515-964-6850.
Next-Generation ACCUPLACER is a computer-based test with a series of basic skill assessments in reading and writing. The test indicates areas where you might need strengthening and suggests courses that might be a starting point for your college career. Most questions require a multiple choice answer.
Generally, it takes an hour to complete the Next-Generation ACCUPLACER Reading and Writing assessments and two hours to complete the ACCUPLACER Classic ELL assessments.
There are two areas of focus for Next-Generation ACCUPLACER:
Reading: The reading assessment determine what skills students have to succeed in entry-level college courses.
Writing & Sentence Skills: The writing assessment requires students to find and correct errors in essays. This includes grammar, punctuation, sentence structure as well as strategy, organization assessment and style in effective writing.
Also available is ELL ACCUPLACER Classic. Written in standard English, ELL ACCUPLACER Classic will assess appropriate levels of ELL classes or regular course work.
Next-Generation ACCUPLACER is user friendly and was designed for those with little or no computer experience. DMACC staff are on hand to walk you through the directions and assist you with getting started.
The amount of time you spend on each area is recorded, but there is no time limit, so you can relax and do your best!